BLHS

boys punch state ticket, girls fall just short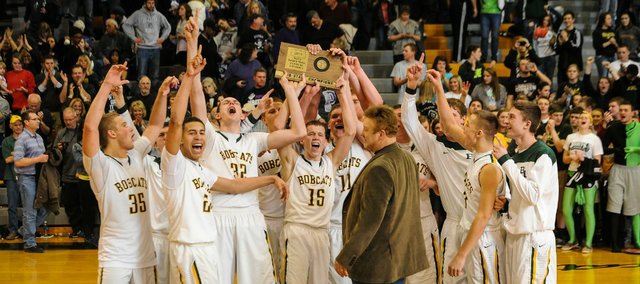 For the second time in three years, the Basehor-Linwood boys are headed to state.
The Bobcats punched their ticket to next week's Class 4A-1 tournament in Salina with a 61-58, sub-state championship win Saturday against Kaw Valley League foe Piper at home. It took all 32 minutes, but the 2012 state champs held on to give themselves a shot at redemption after missing the state cut last season.
BLHS (19-3) clung to a three-point lead with 13 remaining, but Piper (15-7) got two looks from beyond the 3-point arc in the game's final seconds. Dominique Jennings came up short from the corner and Luke Long missed just before the buzzer, and the celebration was on.
The Bobcats opened up a 52-44 lead with 6:41 to go in the fourth, but Piper scored the next seven to get within one midway through the period. Shots by Chase Younger and Patrick Muldoon gave the Bobcats some breathing room with 2:51 to go, but once again, the Pirates had an answer. They scored five straight, including a game-tying 3-pointer by Tyler Owens with 1:52 remaining.
Jahron McPherson, who sunk the Pirates with a buzzer-beater in double overtime earlier this season, answered Owens' trey on the other end, but Owens came back with a layup with less than a minute remaining. The Bobcats ran the clock down to 14.1 seconds before calling a timeout on the ensuing possession, and McPherson was fouled just more than a second later. He hit a pair of free throws to provide the final margin of victory.
Neither team gave way in the opening period, as they battled to a 19-19 tie. The score remained knotted at 27-27 with 2:58 left in the second quarter, but BLHS closed out the half on a 7-1 run to take a 34-28 lead into the locker room. Piper started the third quarter with an 8-2 burst of its own to draw even, but the Bobcats never gave up the lead and went back in front by eight at the end of the period.
BLHS had one of its most balanced scoring nights of the season. Tim Sanders led the way with 13 points, Muldoon added 12, Younger and McPherson each had 10, Zach McNabb 9 and Carson Fliger 7. Owens led all scorers with 21 points.
The Bobcats are the No. 3 seed at the state tournament, which begins Thursday in the Salina Bicentennial Center. They'll open against No. 6 El Dorado (13-9) at 4:45 p.m. Thursday. The winner will advance to the semifinals, where it will face the winner of No. 2 Independence (19-3) and No. 7 Topeka-Hayden (12-10) at 4:45 p.m. Friday.
Other first-round matchups are No. 1 McPherson (20-1) against No. 8 Sumner Academy (10-12) and No. 4 Paola (16-6) against No. 5 Winfield (14-8).
Score by quarters
Piper 19 9 16 14 — 58
Basehor-Linwood 19 15 16 11 — 61
Individual scoring
PIPER — Tyler Owens 8-14 2-5 21, Dominique Jennings 4-9 5-7 13, Vincent Eskina 4-9 0-0 10, Darius Drew 2-3 0-0 6, Luke Long 3-10 0-0 6, CJ Harper 1-3 0-0 2.
BASEHOR-LINWOOD — Tim Sanders 6-10 1-3 13, Patrick Muldoon 6-7 0-0 12, Chase Younger 4-10 0-0 10, Jahron McPherson 2-3 4-6 10, Zach McNabb 2-6 5-7 9, Carson Fliger 2-4 3-5 7.
Piper girls 33, Basehor-Linwood 31
The Basehor-Linwood girls had two chances to tie the game in the final seconds, but came up just short in a 33-31 loss Saturday in a Class 4A-1 sub-state final against Piper.
BLHS (14-8) fell behind by a 33-27 margin with 3:48 remaining, but didn't allow the Pirates (19-3) to score again. The Bobcats slowly chipped away at the deficit and got within two on a free throw by Marriah Clayton with 1:08 to go. Piper's Jessica Wayne missed the front end of a one-and-one with 23.4 seconds remaining, the Bobcats pulled down the rebound and called a timeout with 17.3 ticks left.
Alex Gorman found Victoria Smith underneath with less than 10 seconds left, but Smith's shot was off the mark. Clayton chased down the loose ball and the Bobcats took another timeout with 3.3 seconds left. Smith got a jumper off at the buzzer, but the shot clanked off the rim.
BLHS used its defense to go in front early, as it took an 8-4 lead after one quarter. Piper started to get shots to fall in the second, but the Bobcats didn't relinquish the lead, and they took a 14-12 lead into the locker room.
PHS scored the first seven points of the third quarter, but BLHS responded with seven straight of its own to force a 21-21 tie at the end of the period. An 8-3 Pirate run midway through the quarter gave PHS its largest lead at 33-27. Haley White capped off the run with four consecutive free throws — Piper's final points — after Smith was whistled for a foul and Amber Garver received a technical foul.
Smith led BLHS with 12 points, including 10 in the first half. She was the only scorer to reach double figures. Wayne and White led Piper with eight points each.
Score by quarters
Piper 4 8 9 12 — 33
Basehor-Linwood 8 6 7 10 — 31
Indivdual scoring
PIPER — Jessica Wayne 8, Haley White 8, Tori Webb 6, Megan Woolley 6, Carley Zwart 2, Maya Morrow 2, Lexsi Owens 1.
BASEHOR-LINWOOD — Victoria Smith 12, Alex Gorman 6, Madison McDowell 6, Marriah Clayton 3, Sarah Ford 3, Courtney Payne 1.