Basehor-Linwood senior crowned Miss Leavenworth County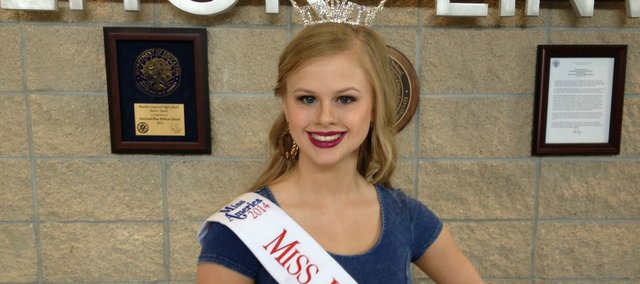 Basehor — When Makayla Weiser's name rang out on the loudspeaker at the Miss Leavenworth County pageant, it took a moment for her to realize she had just won the first pageant she had ever competed in.
"That's my name," the senior at Basehor-Linwood High School said recently, looking back at the February pageant. The next thought: "Where's my mom? I didn't want to do the corny thing and cry, but then I looked out and saw her."
Emotions got the best of both of them. With the crown placed on her head and the Miss Leavenwoth County sash draped over her shoulder, Weiser's journey in the Miss America pageant world was just beginning.
Weiser, through local Miss America pageant organizations, has already begun fundraising and volunteering for local groups and will compete in the June Miss Kansas pageant. The Miss America Pageant partners with the Children's Miracle Network and raises money through its national pageants for children and their families. Winners of local pageants are also eligible for Miss America scholarships, which Weiser will use when she attends Kansas State University next year to study graphic design.
The Miss Leavenworth County pageant wasn't just about beauty and poise, it was about the person as a whole, and Weiser has made it a goal to promote an issue very close to her heart - bullying. As her platform at the pageant, Weiser spoke about childhood mentoring and how instilling a positive attitude in youths is the best way to fight bullying, something she says she experienced growing up.
"I want to put it into their minds that it's OK to be themselves and that bullying should never be tolerated," Weiser said.
Weiser is planning on visiting elementary schools throughout the county in the coming months to speak on the topic.
"If I could make it to the state level, then I could speak to even more kids," Weiser said. "If I had someone when I was younger come talk to me about something like that, I think it could've made a big difference. I want to do that for younger kids."
In addition to volunteering, Weiser also has to prepare for the Miss Kansas Competition. In it, she will not only have to speak about childhood mentoring but she will face a challenging interview session with judges in which she will have to speak about and give her opinion on current events and issues.
Seven judges at the Leavenworth County pageant interviewed Weiser, she said, about controversial topics such as gun control, abortion, teen pregnancy and gay rights, among others. She also had to know the history of Kansas, local government officials and recent legislation enacted in the state. Weiser said she was able to succeed with help from her mother and pageant coach Jodi Rhineheart.
In addition to childhood mentoring, Weiser is also able to display one of her other passions through the local pageants - dance.
Weiser was invited to the Miss Leavenworth County pageant after one of its organizers saw her performing in the BLHS Fall musical "Shrek." At the February pageant in Leavenworth, Weiser performed a jazz dance that she choreographed herself. At the Miss Kansas pageant, she will perform a point ballet dance.
"It's my favorite thing to do, perform," Weiser said.
Her goal, she said, is to place in the top ten at Miss Kansas. She said the thought of making it to the Miss America pageant is still one she can't quite wrap her head around.
"Dream come true right there," Weiser said.
Past results might say Weiser has a good chance at winning Miss Kansas. Sarah Sutherland, the co-executive director of Miss Leavenworth County, said the last three Miss Leavenworth County winners went on to win the state competition.