BLHS

eliminated by El Dorado in state opener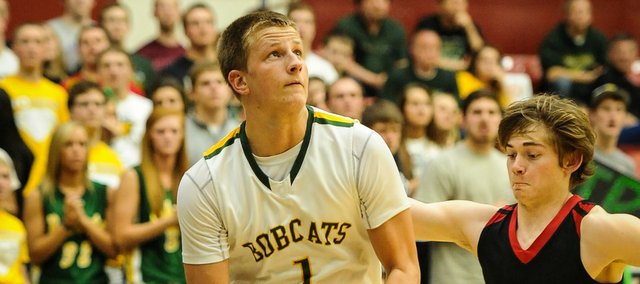 Salina — Basehor-Linwood made its highly anticipated return to the state tournament Thursday against El Dorado. Unfortunately for the Bobcats, though, the trip lasted two days shorter than they would have hoped.
BLHS saw its 2013-14 season come to an end with a 66-60 loss to the Wildcats in the first round of the Class 4A-I state tournament in the Salina Bicentennial Center.
The third-seeded Bobcats (19-4) entered the fourth quarter with a 46-43 lead, but No. 6 El Dorado (14-9) opened the period on an 8-2 run to take a 51-48 advantage with 5:10 left. The Wildcats extended their lead to five less than three minutes later. The scoring run included four straight free throws by Travis House — two of which came after Bobcat junior Patrick Muldoon received a technical foul for arguing with an official.
"Him sitting on the bench and me being mad at him probably affected us more than anything," coach Mike McBride said. "I guarantee he learned the lesson for the rest of his life."
Five straight points by Carson Fliger forced a 57-57 tie with 2:04 remaining, but the Bobcats weren't able to complete the comeback. El Dorado closed the game on a 9-3 run to advance to Friday's semifinal round.
Fourteen of the Wildcats' 23 fourth-quarter points came at the free throw line. As a team, El Dorado went 24-of-30 from the charity stripe.
"We didn't move our feet on defense," senior Tim Sanders said. "Fouls were getting called and it just wasn't our game. We get relaxed when we've got leads. That's what we've been doing all season and it showed today."
BLHS took control early in the contest, scoring the first six points, and ended the opening period in front, 19-14. The Bobcat advantage grew to eight late in the second, but the Wildcats scored the last five points of the half to get within three, 33-30.
El Dorado opened the second half with a 3-pointer from Jared Haury and a conventional three-point by from House to take its first lead of the game at 36-33. The Wildcats stretched their lead to five midway through the third, but a 3-pointer by Chase Younger ignited a 10-2 Bobcat run that gave the lead back to BLHS at the end of the period.
The Bobcats have gotten clutch 3-pointers from several players this season, but Younger's trey was the team's only one of the night. The Bobcats went just 1-of-8 from beyond the arc.
"Teams have been doing this to us for the last two or three," McBride said of El Dorado's perimeter defense. "When it was too late, we finally decided to go to the basket."
Muldoon led BLHS with 16 points, while Sanders and JP Downing added 13 and 10, respectively. Sanders gave the Wildcats problems with his mid-range jump shot early in the game, but scored just three points in the second half.
"I've been looking for that all season, especially early in the game because they're not expecting it then," Sanders said. "But, in the second half, they guarded it very well."
Second-chance points were hard to come by in the second half, as the Bobcats managed just three after the break. BLHS won the rebounding battle, 29-22, but was out-boarded by a 17-14 margin in the final two quarters.
House led all scorers with 23 points, including a perfect 10-of-10 effort from the free throw line, and Haury added 19 for the Wildcats. El Dorado will face Topeka-Hayden — an 82-74 winner against Independence on Thursday — in Friday's semifinals.
The loss marked the final career action for seniors Younger, Downing, Sanders, Zach McNabb and Sean Potter. Their resume includes 72 total victories, the 2012 Kaw Valley League title and two state appearances, including a Class 4A state title two years ago.
"Four of them were there and two of them played in the state championship in 2012," McBride said. "They obviously wanted to come back and do it again. They've put in so much time and hard work, they're great kids and they've been loyal to the program, so we're obviously going to miss them."
Score by quarters
El Dorado 14 16 13 23 — 66
Basehor-Linwood 19 14 13 14 — 60
Individual scoring
EL DORADO — Travis House 6-9 10-10 23, Jared Haury 6-11 4-4 19, Alec Hildreth 2-2 6-8 10, Johnstone Scott 3-5 1-3 7, Wes Haines 1-3 3-5 5, Garrett Howland 1-2 0-0 2.
BASEHOR-LINWOOD — Patrick Muldoon 7-10 2-2 16, Tim Sanders 5-10 3-4 13, JP Downing 4-8 2-4 10, Chase Younger 3-13 2-4 9, Carson Fliger 4-7 1-1 9, Zach McNabb 1-3 0-0 2, Brock Gilliam 0-0 1-2 1.