BLHS

survives in sub-state finals, shifts focus to Salina
Bobcats will face El Dorado at 4:45 p.m.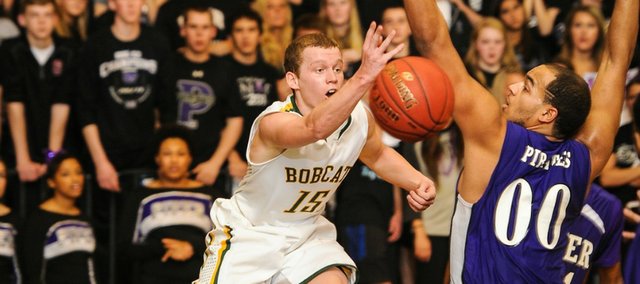 With time winding down in Saturday's Class 4A-1 sub-state championship game, the Basehor-Linwood boys clung to a 61-58 lead against Piper. The Pirates missed a game-tying opportunity when a 3-point attempt by Dominique Jennings came up short, but a teammate pulled down the rebound and passed to Luke Long in the final seconds.
Long fired from the top of the key. He missed, the buzzer sounded and pandemonium ensued. For the second time in three years, the Bobcats had punched their ticket to state.
"It was kind of a flashback to a couple weeks before," BLHS junior Patrick Muldoon said, citing a 100-99, double-overtime win at PHS, in which Long hit a game-tying three at the end of regulation. "They missed a shot, we didn't box out and they kicked it back out to Long. It was almost the exact same spot as the first game.
"I thought it was in, to be honest, so I held my breath and closed my eyes, then I heard everybody go crazy."
This time around, the ball bounced in the Bobcats' favor. Indeed, it took all 32 minutes, but the 2012 state champs held on to give themselves a shot at redemption after missing the state cut last season.
After surviving a scare against Tonganoxie in Friday's sub-state opener, the Bobcats (19-3) opened up a 52-44 lead with 6:41 to go in the fourth quarter of Saturday's final. However, Piper (15-7) scored the next seven to get within one midway through the period. Shots by Chase Younger and Muldoon gave BLHS some breathing room with 2:51 to go, but once again, the Pirates had an answer. They scored five straight, including a game-tying 3-pointer by Tyler Owens with 1:52 remaining.
Owens gave the Bobcats fits down the stretch, scoring 13 of his game-high 21 points after halftime.
"(Owens) just got to the rim whenever he wanted," coach Mike McBride said. "Pat had four fouls, so our inside presence was gone, but he's a heck of a player. There at the end, we ran out of gas and they just went to the hole to get back in the game."
Jahron McPherson answered Owens' trey on the other end, but Owens came back with a layup with less than a minute remaining. The Bobcats ran the clock down to 14.1 seconds before calling a timeout on the ensuing possession, and McPherson was fouled just more than a second later. He hit a pair of free throws to provide the final margin of victory.
Neither team gave way in the opening period, as they battled to a 19-19 tie. The score remained knotted at 27-27 with 2:58 left in the second quarter, but BLHS closed out the half on a 7-1 run to take a 34-28 lead into the locker room. Piper started the third quarter with an 8-2 burst of its own to draw even, but the Bobcats never gave up the lead and went back in front by eight at the end of the period.
BLHS had one of its most balanced scoring nights of the season. Tim Sanders led the way with 13 points, Muldoon added 12, Younger and McPherson each had 10, Zach McNabb 9 and Carson Fliger 7.
"They can defend us across the board," McBride said. "They're a really good basketball team, so that's how we had to play."
BLHS is the No. 3 seed in the state tournament, which begins today in the Salina Bicentennial Center. The Bobcats will open against McBride's alma mater, No. 6 El Dorado, at 4:45 p.m. The Wildcats (13-9) punched their ticket with a 55-46 win Saturday against Andover Central.
The Bobcats have some players with significant state experience. Younger and Downing started on the 2012 state championship team as sophomores, and Muldoon helped Mill Valley to a third-place finish in last year's 5A tournament.
"It's kind of nerve-wracking at first, but we'll just come out and play ball," Downing said. "We've been playing forever, so we'll know what to do."
The winner of today's matchup will advance to Friday's semifinal round, where it will face the winner of No. 2 Independence and No. 7 Topeka-Hayden at 4:45 p.m. Friday. Other first-round matchups include No. 1 McPherson against No. 8 Sumner Academy and No. 4 Paola against No. 5 Winfield.
Winners in Thursday's opening round will be guaranteed games Friday and Saturday, while losers will be eliminated. According to Younger, that's all the more reason to, as the old saying goes, take it one game at a time.
"It's really important to focus," Younger said. "We looked ahead against Tongie, and look what happened in the first half. We had to realize in the second half that we can't look ahead. We have to beat this team before we can think about the next round."