Basehor's Sterling Holland wins Kansas spelling bee for second year
Sterling Holland knew not to forget the silent C when the judges gave him the word that could potentially win him the Sunflower Spelling Bee championship.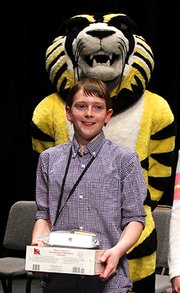 "Acquiescence," Holland said while on stage at Fort Hays State University last weekend. "A, C, Q..."
Holland had been studying words with the root similar to the word "acquittal" for weeks leading up to the Sunflower Spelling Bee championship with the help of his mom and unofficial coach, Anne Holland.
"It was weird," Anne Holland said. "We had just been studying 'acquittal' and that's the word, or a word with the same root, that comes up."
Sterling finished spelling the word and was crowned the champion speller in Kansas for the second year in a row. The win, like it did last year, earns Sterling and his family an all-expenses-paid trip to Washington, D.C., at the end of May to compete in the Scripps National Spelling Bee.
Last year, Holland advanced to the third round in the National Spelling Bee before being eliminated. He was one of about 250 students who qualified for the competition.
This year, he hopes to make it to the 5th round, at least, where he would be in the top 40 competitors.
"Last year, I was kind of new to everything," Sterling said. "There are a lot of spellers that that have been there for a couple years and are used to everything."
This year, Sterling is one of those repeat contenders.
But spelling isn't the only thing on Sterling's mind. He is a seventh-grader at Basehor-Linwood Middle School competing in a bevy of sports. He plays basketball, runs cross country and track, and competes in wrestling, hockey and lacrosse.
He said he makes time to study for spelling bees after he gets home from his sports activities. When he was preparing to go to the national spelling bee last year, he squeezed in study time wherever he could without a strict schedule. This year, he said, he wants to have an assigned time to study each day.
Sterling says he has to know about 12 different languages and how their influence on certain words affects how they are spelled. His mother is able to offer specialized help with classic languages such as Latin because she has a degree in classics from Grinnell University.
"I try to help him out by breaking down the words," Anne Holland said. "It's a way for me to actually use my major."
The two, along with Sterling's brother and sister, like to take time to study when they can at Java Break in downtown Lawrence, where Sterling can get a bowl of cereal while he practices.
Sterling's least favorite languages to learn and memorize are German and Dutch. He said the words with Germanic origins are "tricky" and often have silent letters. The winner of last year's national spelling bee had to spell a word of German origin to claim the title.
Sterling's hours of preparation are all to help him when he stands behind the microphone at the Scripps National Spelling Bee, awaiting his word from the judges. He's working to avoid the sense of panic that comes when he doesn't recognize a word and working to be confident that he will have a sense of relief when it's a word he knows.
"Those seconds right before you get your word is when you're the most nervous," Holland said. "It's really nerve-wracking not to know what word they will give you."