Winter sports in review: Success in large supply at
BLHS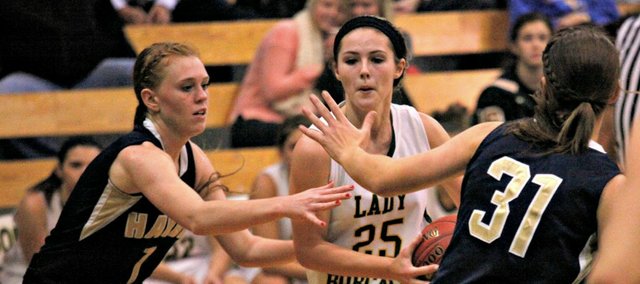 Success was hardly in short supply this winter at Basehor-Linwood, as each team's 2013-14 season was littered with highlights from beginning to end. Here's a look at the season that was, including some of the most memorable moments of the year.
Wrestling
Several Bobcats enjoyed unprecedented success on the mat this season, including five who punched their tickets to the Class 4A state tournament in Salina. Seniors Cory McCleary, John Hopper, Dalton Inlow and Josh Summers ended their careers on the state's biggest stage, while freshman Corbin Nirschl added to his already decorated high school resume.
Nirschl, the state's top-ranked 106-pounder for most of the year, became the school's first undefeated wrestler, capping off a 31-0 season with the third state title in program history. Nirschl finished the season ranked No. 17 nationally by InterMat Wrestling. His resume already includes five tournament titles, including the school's first-ever Bobcat Classic championship.
Coach Tyler Cordts must replace eight seniors next season, but with several regular starters returning, as well as the addition of 2013 triple crown youth state champions Jonny Trowbridge and Cody Phippen, BLHS should make plenty of noise again in 2014-15.
Girls basketball
Two points separated the BLHS girls from a state bid, but the sub-state championship loss hardly erased the progress the Bobcats made in recent months. They went 14-8 in coach Jason Tatkenhorst's second year, a near-perfect reversal of last year's 7-13 campaign.
Using a defense that allowed 50 points or more just five times this season, BLHS shook a 2-2 to start to win seven of eight, capped off by a third-place finish in the Bobcat Invitational. The Bobcats went just 5-5 the rest of the way, but did enough for a third-place finish in the Kaw Valley League.
The team loses All-KVL first-teamers Victoria Smith and Amber Garver, as well as fellow seniors Alex Gorman and Courtney Payne, but All-KVL honorable mention Madison McDowell will lead a group of juniors who saw significant varsity time this season. McDowell and Marriah Clayton were regular starters, while Ryann Smith and Sarah Ford saw extended time as reserves.
Boys basketball
The Bobcat boys lost just three games in the regular season — two to 5A state champion Lansing — and returned to state earlier this month, but unfortunately, the trip to Salina was a brief one. BLHS saw its season come to an end with a 66-60 loss to El Dorado in the first round of the 4A-I tournament.
The Bobcats went 11-1 against 4A-I opponents, including back-to-back, double-overtime victories at Piper and Tonganoxie in mid-February. They also brought the Bobcat Invitational trophy back to their home floor, handing Ottawa a 74-57 loss in the title game. They saved perhaps their best home game for last, hanging on for a 61-58 win against Piper in the sub-state championship game.
Next season, coach Mike McBride will be without starters and All-KVL selections Chase Younger, Zach McNabb and JP Downing, as well as seniors Tim Sanders and Sean Potter. However, a trio of juniors who contributed significant minutes will return in 2014-15. All-KVL first-teamer Patrick Muldoon and Jahron McPherson started this season, while Carson Fliger was on of the team's top reserves. Fellow junior Joe Gorman and sophomore Brock Gilliam will also look to play bigger roles after seeing marginal time this season.
Powerlifting
Both Bobcat teams continued their current runs of dominance, sweeping the Class 4A state titles at this year's meet in Abilene. It was the seventh consecutive state title for the girls and the fifth for the boys.
The girls won every tournament they competed in this season and won seven of 10 individual weight classes at state. Cassandra Beattie and Courtney Norris led the way, earning Lifter of the Meet honors. All seven state champs are underclassmen this year, so the Bobcats will likely expect similar success next season.
The boys got state titles from junior Dean Cochran and senior Bret Fritz, as well as three second-place and three third-place finishes. Cochran will
headline a long list of lifters returning next winter, so the boys will likely look to run their string of state titles to six at season's end.