Bobcat lifters receive recognition at Capitol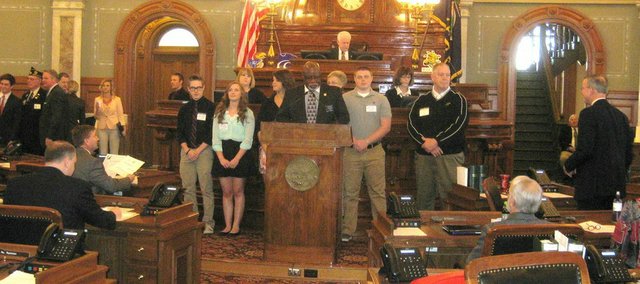 Following yet another banner season, the Basehor-Linwood powerlifting teams received some recognition at the Capitol in Topeka.
Kansas Legislature honored the Bobcats with a resolution before the House of Representatives on Wednesday. BLHS seniors Eric Purrington, Allison Kasick, Sara Rehm and Jay O'Bryan attended on behalf of the teams, which had a combined 130 members in 2013-14. Rep. Willie Dove, who lives in the BLHS school district, sponsored the resolution.
The Bobcats swept the team titles at the Class 4A state meet earlier this month in Abilene. It was the seventh consecutive title for the girls and the fifth for the boys. They received a standing ovation from the House.