Genesis Christian Academy student wins poster contestant, meets governor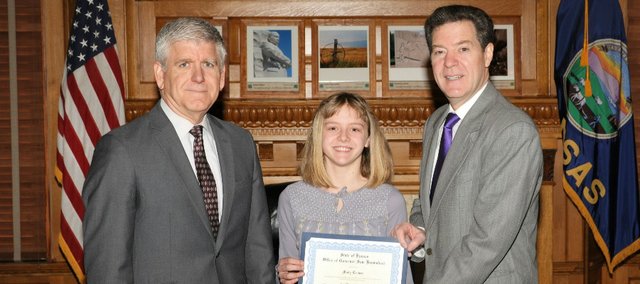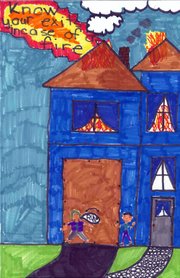 Mady Trower, a Genesis Christian Academy fifth-grader won first place in the state's Fire Safety Poster contest.
For her accomplishment, she met Gov. Sam Brownback and State Fire Marshal Doug Jorgensen earlier this month.
Mady first submitted her poster to the Tonganoxie Fire Department. Officials there then chose her poster to go on to the state level. She is the daughter of Travis and Becky Trower, Basehor. She won in the grades 4-6 division.
This is the first year for the poster contest, which Jorgenson's office sponsored. The contest coincided with Fire Prevention Week in October. The theme was "Show What You Know About Fire Safety."
"The students who submitted artwork are incredibly creative," Jorgensen said. "They took a very serious topic, fire safety, and presented it in innovative ways."
Posters from all participants on the state level were displayed in the Capitol rotunda in February.
Another GCA student, third-grader William Kouns, had his poster submitted to the state contest in the kindergarten-third grade division, but did not receive an award.
Another Leavenworth County student tied a Johnson County student for first place in the K-3 division.
Holly Forge, a second-grader at Pleasant Ridge Elementary School near Easton, tied for first place with Steven Baker, Broken Arrow Elementary, Shawnee.