Basehor's Jump Start fitness expands programs for Spring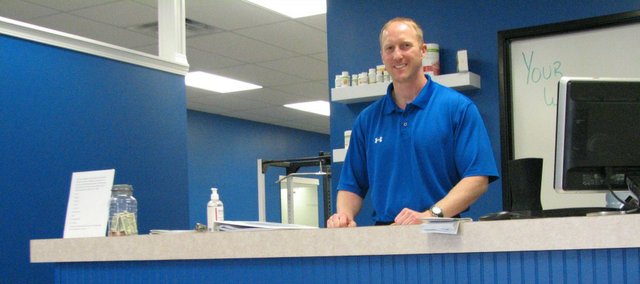 Something fortuitous happened when Chad Derowitsch walked into the space he would turn into Jump Start Fitness and Nutrition in the Basehor Town Square.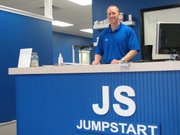 Derowitsch had designed his company's logo and color scheme, bright white letters on a vibrant blue background, before walking into the location. When he did, he saw the same shade of blue painted on one of the main walls.
"It was a nice coincidence," Derowitsch said.
After more than a year of serving Basehor, Jump Start Fitness and Nutrition is expanding its spring programs and will have completed an interior remodeling of the facility. Also in the works is a free community "boot camp" every Saturday.
Starting April 7, Derowitsch is beginning a new program called Healthy Active Lifestyle, or HAL. Derowitsch said the program will hopefully continue the recent success of a weight-loss challenge last summer that raised $1,000 for Holy Angels Church and saw about 45 participants compete to lose unwanted pounds. Instead of just focusing on weight loss, HAL will focus on overall health.
"Rather than just looking at a number on a scale," Derowitsch said, "we want people to lose fat, lose inches and build and maintain muscle to build a better indicator of true health."
Derowitsch said spring is the perfect time to start a program like HAL. He knows how people need a little extra help to get back in line with their New Year's resolutions.
"The question usually comes up about how their resolutions are going," Derowitsch said. "But this program is more about a lifestyle change than a resolution."
The HAL sessions will take place three times per week and are free to members of Jump Start Fitness. Non-members can attend the sessions for $6. The sessions include a 30-minute informative presentation about nutrition and diet followed by a 30-minute workout, all taught by Derowitsch.
Another new offering at the gym will be a smoothy and shake bar. Derowitsch and Jump Start's co-founder and wellness coach Jeri McDonnel said the new smoothie bar and an expanded health products section combine to promote the importance of healthy living.
Derowitsch said he knows people can get confused by the abundance of information in the world of diet and nutrition but he hopes to simplify everything down at Jump Start.
"Our job is to get people through all the minutia there can be with health and fitness," Derowitsch said.
Derowitsch is also hoping that a free community "boot camp" will give Basehor residents a simple way to begin their journey to a healthier lifestyle. The boot camp will take place every Saturday at 10 a.m. beginning mid-April. Derowitsch said he wants to hold the boot camps outside, weather permitting, at the Basehor City Park or along Wolf Creek Parkway.
"It will be something for people of all fitness levels," Derowitsch said.
For more information about Jump Start Fitness and its spring programs, visit the company's Facebook page.