Artsy Bonner Springs businesses to cohabitate in former Masonic Hall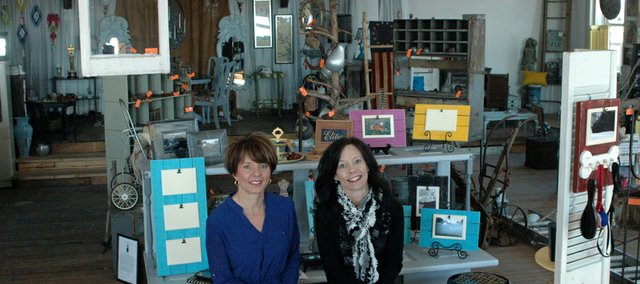 It is a well-known spot with a history dating back more than 100 years, and it's about to be used in a whole new way.
Two new businesses, Mona Lisa Fine Arts Studio, offering painting classes and space for other artistic activities, and Flip Kansas City, where multiple vendors will sell their wares similar to the businesses in Kansas City's West Bottoms area, have taken over the former Masonic Lodge Hall on the upper level of 300 Oak St. Mona Lisa opened March 15 in the smaller of the two large rooms in the hall, while Flip Kansas City, which will operate the second and fourth weekends of the month, plans its grand opening this weekend.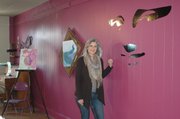 Both businesses have the goal of joining the existing Bonner businesses, like Bottle 12 Wine Bar, The Pink Zebra, and Moon Marble Co., that draw in customers from all over the metro to Bonner Springs.
Mona Lisa owner Suzanne Hern said her painting classes already have pulled in participants from Olathe, Liberty, Mo., and Raymore, Mo.
"We are, I think, titled over the other side now, where we are a destination," Hern said.
Sisters Kim Scott and Geralyn Minshew said they want Flip Kansas City to "bring downtown to small town."
"We were trying to help breathe some life back into a small town like Bonner. It's got great character and great people, and our hope was that we could become a part of the revitalization and the initiative to shop Bonner," Minshew said.
Mona Lisa Fine Arts Studio is the brainchild of Hern, a Bonner Springs native. About two years ago, she started her own business hosting painting parties and classes, where Hern would guide participants in creating a certain painting, usually while they enjoy their favorite drink.
Similar businesses have popped up all across the country, and it just so happened that one had trademarked the same name Hern was using, Wine and Design. Rather than go through legal issues, Hern opted to go with a new name based on one of the most famous paintings in history, Mona Lisa.
"I had this little image of Mona Lisa, a modern painting of her with a sun dress with a glass of wine in front of her, and I just thought that was groovy," she said, joking "Hopefully Da Vinci's family doesn't have that trademarked."
Ever since starting her business, she has been looking for a permanent space to house the parties, and she eventually decided she wanted that space to be more. Also a piano teacher for the last 20 years, she wanted to offer music lessons, dance lessons, and other forms of artistic expression with the help of guest instructors. Artists or groups also may rent the space.
"What we say on the website is 'Give your ideas some space,'" she said.
She was driving through downtown one day and saw the for rent sign for space on the lower level of the 300 building, and after viewing that, she asked to see the old Masonic Hall space.
"I actually used to come up here for Rainbow Girls back in the day," Hern said. "I actually wanted to rent the whole thing and move in, but I would have had to sell my house."
Mona Lisa will offer private piano study, guitar and drum lessons, dancing classes including line dancing and burlesque dance classes, and of course, painting classes — a youth class for ages 4 to 13 in addition to the adult classes she previously offered.
Hern also plans to offer some other unique uses of the space, like poetry nights at least once a month.
"People will come, read two or three of their poems, and we will share and discuss," Hern said. "It will be a kind of casual thing where they can bring food and drinks."
There also will be a short story writing workshop as well as a women's workshop aimed at helping participants find their vision and passion.
About the same time Hern was looking for her space, Scott and Minshew were seeking a spot for Flip Kansas City.
Both have been repurposing furniture for the past couple of years, and Scott has been selling hers in the West Bottoms for that same length of time. They decided they wanted to bring the West Bottoms concept to the suburbs.
"It's always been a dream of ours to own our own business," Scott said.
Natives of western Shawnee and De Soto High School graduates, they say they were already very familiar with Bonner Springs when they started to look for a location. When they found the Masonic Hall, they said they loved the history behind it.
"It just had that very vintage feel that we were looking for and the space, so it just turned out to be the perfect place for what we were looking for," Scott said.
Their idea was met with a lot of enthusiasm; the business is at capacity with 16 vendors, with a waiting list for others. Their Facebook page also has grown to 980 likes, all before their opening weekend.
The vendors at Flip will offer both vintage items and new, trendy products, including jewelry and clothing.
"There's a little bit of everything for everyone here," Minshew said.
Many of the vendors are using Flip as a second location —some already sell in the West Bottoms, while others have more permanent spaces like The Junque Drawer out of Olathe as well as Bonner's own Provence on the Prairie. Scott and Minshew said they were excited to get the support of Mary Miller, owner of Provence on the Prairie.
"She really brings a lot to Flip just by joining us," Scott said.
The sisters say they also plan to allow others in the community to rent their space, and they hope to plan special events once a month that will help support other local businesses as well — their first likely will be a car show in late April.
The two businesses are sharing space in the stairwell and hallway from the entrance on Third Street, Flip Kansas City is displaying some products, while Mona Lisa will display work by rotating local artists, currently showing several pieces by a Shawnee artist and a few from a young Bonner artist. With similar artistic missions, the businesses should peacefully cohabitate.
"I'm hoping we will be helpful to each other, because my painters can shop at Flip, and their shoppers will see me and bring their kids or themselves back," Hern said.
Flip Kansas City will have its ribbon cutting Thursday at 6 p.m.; it will be open Friday 11 a.m. – 7 p.m., Saturday 10 a.m. – 6 p.m., Sunday noon to 4 p.m. The business can be contacted at 913-205-7194, or Facebook.com/FLIPkansascity. For more information about Mona Lisa Fine Arts Studio's classes and other events, visit Monalisafineartsstudio.com.