BLHS

baseball adapting to new system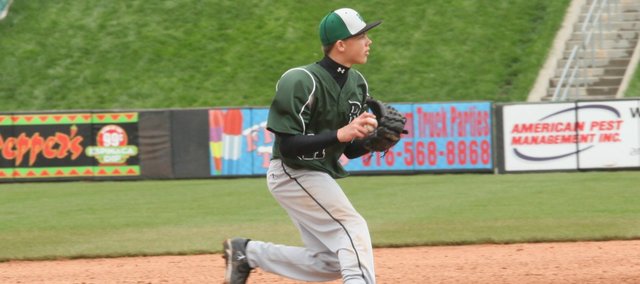 2014 baseball schedule
March 28, vs. Turner
April 1, at Bonner Springs
April 4, at Tonganoxie*
April 7, vs. Benton (Mo.)*
April 10, vs. Mill Valley
April 12, at SM West
April 17, vs. Piper
April 21, vs. Bishop Ward*
April 24, at Bishop Ward*
April 26, vs. Tonganoxie*
May 1, at Butch Foster Classic (T-Bones)*
May 2, at Butch Foster Classic (T-Bones)*
May 3, at Butch Foster Classic (T-Bones)*
May 8, at Lansing
*Denotes single game
When Jeff Vestal first took over as Basehor-Linwood's baseball coach, players admitted the transition wasn't as smooth as they'd hoped. About three weeks later, the Bobcats have adapted and are ready to put their hard work into motion.
The Bobcats officially opened their season with a pair of wins on Friday, and if they have their way, further success won't be far behind.
Vestal, who came to BLHS after four years at Kaw Valley League rival Piper, wasted little time instilling his philosophies into his new players. Those changes came as somewhat of a shock to the Bobcats, who went 6-10 last season under coach Brian Lohafer.
"What I brought into the first week or two was tough," said Vestal, who also spent several years as an assistant at Bishop Ward. "They're not used to my style. I'm up tempo and we're moving, moving, moving. We don't talk a lot as coaches. We want them to react and know what to do."
Players eventually began to adjust, and what started as work became routine. Playable field conditions meant BLHS could get started right away — unlike last year, when the team had few outdoor practices before its last game — and the extra practice time ultimately led to immediate success.
The Bobcats saw the first fruits of their labor Friday when they swept Turner in a KVL doubleheader, 3-2 and 10-5.
"We've learned (Vestal's) new system real quick because we've been able to be outside," senior Abe Ruffcorn said. "Last year, when we were inside, we weren't really prepared for game-like situations. This year, we're going to be ready."
While a veteran lineup has allowed the team to move from basic fundamentals to more advanced drills in practice, the Bobcats — especially the seniors — recognize the importance of staying sharp early in the season.
"If you don't come out knowing what you're going to do, it becomes a problem all year," Avery Fliger said. "You can't just pick yourself back up."
Ruffcorn and Fliger are two of five seniors alongside Bryan Crowe, Dalton Inlow and Andrew Magana. Crowe returns after earning an All-KVL honorable mention as an outfielder.
Vestal must fill vacancies left by a 2013 class that included a second-team All-State selection in outfielder Tanner Garver and all-league honorees Joe Merino (second-team catcher), Zac Hevel (second-team infielder) and Seagar Smith (honorable mention infielder).
The 2014 roster includes seven juniors in Casey Jones, Paul Peterson, Ryder Reed, Jesse Smallwood, Ashton Findley, Zach Baxter and Dane Quigley, as well as sophomores Jake Hahn, Garrett Draper and Brock Gilliam.
The Bobcats will be back on the diamond Tuesday when they travel to rival Bonner Springs. In the meantime, they'll continue to familiarize themselves with Vestal's system — a process the coach said has already shown early signs of success.
"It's getting there, but it's a short season. You get three-and-a-half weeks until your first game and there's a lot of stuff you've got to deal with, but overall, I'm pretty happy with the senior leadership and the way they've adapted to me.