BLHS

softball team loaded with veterans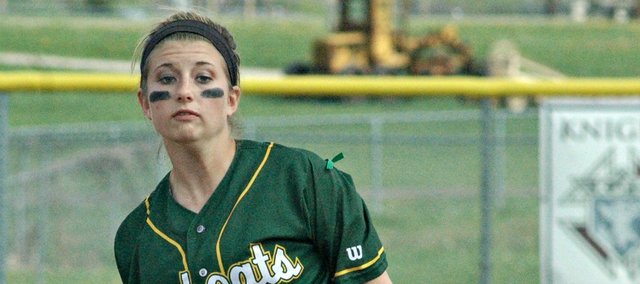 2014 softball schedule
March 31, vs. Turner
April 1, at Blue Valley North
April 3, at Tonganoxie
April 10, vs. Mill Valley
April 11, at Silver Lake
April 17, vs. Piper
April 21, vs. Atchison
April 24, at Bishop Ward
May 1, at Bonner Springs
May 8, at Lansing
Even with a 14-7 record and a share of the Kaw Valley League title, Basehor-Linwood softball players admit last season left something to be desired. But, with nearly every key contributor back from last year's team, the Bobcats have their sights set on bigger and better things in the coming months.
The veteran-heavy Bobcat lineup has its eyes on another league title, as well as return to the state tournament in May. BLHS finished third in 2012, but missed the cut when it was upset by rival Bonner Springs in last year's regional semifinals.
"Last year, we had a lot of things that kind of pulled us back, and we were kind of rebuilding," senior Candice Jennings said. "This year, we're coming back without losing anybody."
Jennings, who will play next season as Neosho County Community College, is one of four seniors who started regularly in 2013 — three of them college signees. Others are Highland Community College signees Katie Lackner and Allison Kasick and Kayleigh Schoenfelder. Jennings, Lackner and Kasick return as All-KVL first-team selections, while Schoenfelder was an honorable mention.
Offensively, Kasick led the team last year with a .517 batting average and 35 runs batted in. All four seniors hit .394 or better and drove in at least 18 runs.
Junior pitchers Asia Larsen and Madison McDowell return after starting 11 and 10 games last season, respectively. They combined for 66 strikeouts, compared to just 27 walks and 37 earned runs. The pitching duo will have a familiar target behind the plate, as sophomore Gaby Brown returns as the starting catcher. Brown posted a .958 fielding percentage as a freshman, committing just four errors.
Sophomores Jenna Donnelly and Kali Jacobson also return after seeing varsity time last season. Donnelly led the team with 70 at-bats, while Jacobson saw marginal time.
"Most of us are older and have been through program, so we know how practices run," Schoenfelder said. "A lot of it helps at the beginning of the season."
Seniors Carissa Mikesic and Tori Bejarano, junior Kennedy Bowers and freshman Ashley Hoffman are new varsity additions this year.
Just like any other season, early practices were spent working on basic drills and fundamentals. But, according to Lackner, having so many seasoned players already in place provided younger teammates — particularly those on the freshman-loaded junior varsity roster — with extra helping hands in the early going.
"They can ask lots of questions and look at the older classes who have been in this program for all these years," Lackner said. "They can look at us and see what we're doing, then just ask as many questions as possible."
The Bobcats were supposed to open their season Thursday with a doubleheader against Turner, but the games were moved to 3:30 p.m. Monday because of inclement weather. With last season's early regional exit still fresh in their minds, players said team unity will be crucial if they plan to carry their season into the final week of May.
For some, it's a process that began well before they dusted off their cleats.
" Last year, I wasn't that close to some of them, but throughout this year, I've grown closer to them, and I think that will really help," Kasick said. "We can't work individually. We need to connect more on a friendship level. We spend quite a bit of time together, so we're pretty close."