Bobcat girls soccer opens first season under Jones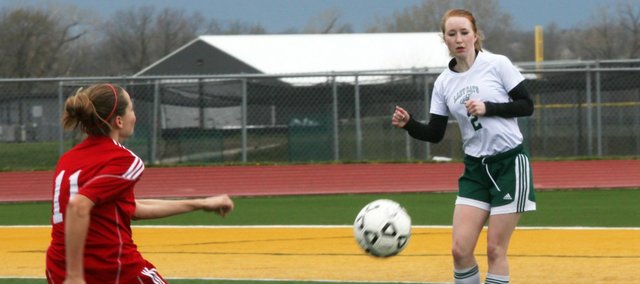 2014 soccer schedule
March 27, at Piper
April 2, vs. Baldwin
April 3, vs. De Soto
April 7, vs. Cair Paravel
April 8, vs. Maranatha
April 10, at Spring Hill
April 21, vs. KC Christian
April 22, vs. Bonner Springs
April 28, at Lansing
April 29, vs. Sumner
May 1, vs. Ottawa
May 6, at Mill Valley
May 8, at Harmon
May 13, at Tonganoxie
May 16, at Bishop Ward
To say last soccer season was an emotional roller coaster at Basehor-Linwood would be quite the understatement. However, with a new coach, new philosophies and a new group of leaders, the 2014 Bobcats are entering the season with a bright, new outlook.
With first-year coach Erik Jones now at the helm, BLHS will look to improve on last season, in which it struggled with — but ultimately learned and grew from — the unexpected death of a teammate in Shealyn Hayes.
"She was the one who always brought our team together, so when she did pass, we wanted to do it for her," senior Ally Laney said of Hayes, who would be a sophomore this season. "It was a huge motivation for us. We wanted to be a team, so it brought us together so much."
Laney is one of five Bobcat seniors out to lead their team to further success this spring. BLHS went 4-11 last season under former coach Derek Mazeitis, ending with a 6-0 loss to rival Bonner Springs in its regional opener. Other seniors this year are Hailey Robinson, Chellcy Miller, Jordan Nirschl and Ellen Seaba. Robinson returns after earning an All-Kaw Valley League second-team nod as a defender.
Jones, who came to BLHS from St. Thomas Aquinas, began working with this year's team during a camp over the summer. He's also the Bobcat boys coach, which has given him the chance to familiarize himself with players during the year.
"If definitely helped having the summer camp," Jones said. "If anything, I learned the names of the girls, their personalities and kind of the culture of the program. It kind of gave me and the assistant coach an idea of where we were, so that's real beneficial."
In addition to his senior class, Jones will have a handful of veteran juniors in Megan Sixta, Raeney Seaton and goalkeeper Brianne Kennedy. Sophomores Courtney Robinson and Nicole Rutherford also bring a year of varsity experience to the field.
The Bobcats must fill voids left by 2013 grads Kara Stephens — perennially the team's leading scorer — and Samantha Rutherford. Other players vying for varsity time this season are juniors Gabby Williams, Ariana Oliva and Taylor Keesee, as well as sophomores Alli Reed, Jordan Blackwood and Erin Heinen. There are also six freshmen listed on the team roster.
Players began practice this season well ahead of where they were last year, solely because the field wasn't covered in snow and ice. Jones has taken advantage, using the opportunity to break the game down to the basics for veterans and new players alike.
"He slows it down and explains it in a lot more detail," Laney said. "He makes sure everybody gets a chance and sees who's good at what. It's just a whole different game because everybody understands it. We've progressed so much."
The Bobcats didn't necessarily get the start to 2014 that they wanted — they dropped a 5-0 decision in their season opener Thursday in KVL action at Piper — but according to Jones, the real success in his first season won't always be measured in wins and losses.
"We're really trying to change the culture of the program and the direction we want to go. We play the games to win, but we're looking to continue to improve. Those are some of our smaller team goals right now.
"We'd like to get off to a hot start, but the attitudes of the girls are really good, and that's what we really want."
Jones' squad will be back on its home field Wednesday against Frontier League opponent De Soto.