Basehor's Bohannon's Wine and Spirits Liquors finds success in first month of business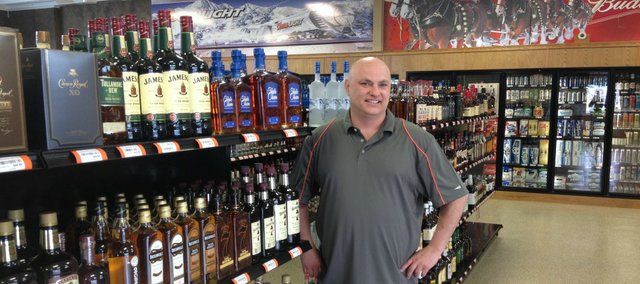 Basehor — The Bohannon family thought there may be a void on the Highway 24/40 corridor running through Basehor.
Scott Bohannon, who owns and manages Bohannon's WIne and Spirits Liquors, which opened March 10, said his family wanted to establish a large liquor store with a wide selection of wines, spirits, craft beers and the "go-to" drinks for people living in Basehor, Tonganoxie and even Kansas City, Kan.
Bohannon runs the store along with his mother, Lena Bohannon, who is primary owner, and he said the community's response has exceeded their expectations so far.
"Because of the response we've seen right off the bat," Scott Bohannon said, "we can tell something like this was needed here."
The family's initial hunch proved correct as their revenue doubled what they were expecting for the first month. The numbers speak louder than anything else, Scott Bohannon said.
"It's all pretty much mathematical," Scott Bohannon said. "You can't really argue with that."
The family was hoping to open the 5,000-square-foot store the first week in March, and Scott Bohannon wishes they had. In that weekend, Bohannon said, the store had to turn away more than 50 customers from the Basehor, Tonganoxie and Kansas City, Kan., area.
Bohannon said that first outpouring of support bolstered his hope that he can draw business from the Kansas Speedway and Legends mall area. He hopes that the alcohol sales tax going to Wyandotte County from purchases made close to those landmarks may start funneling into Leavenworth County and Basehor.
"This could really be something good for the community," said Bohannon, who lives just north of Basehor.
The new store is located off Highway 24/40 and is accessible by Pinehurst Drive. The Bohannons own another liquor store in Leavenworth. The large store features an extensive wine selection and a walk-in beer cave. The store also features a drive-thru window that customers, Bohannon said, haven't quite gotten used to.
"People still ask if we really have a drive-thru," he said.
Customers are able to order their wine, beer or spirit through the window and an employee will bring them their selection. Bohannon just asks customers to know what they want ahead of time.
"Sometimes people will ask if we have a good red wine," Bohannon explained. "Yes, we have more than 60 of them."
The store will also feature monthly sales and occasional free wine tastings.
Not even through its first month of business, the liquor store and its owners are still gauging the Basehor community to see what else is needed in the area.
"We're trying to gather what local area people want in addition to what we have," Bohannon said.
One such thing, Bohannon has noticed, is half-gallon bottles of wine. He figures that because the Basehor area is much more rural, with fewer liquor store options than the city of Leavenworth, people don't want to stop into a liquor store multiple times per week. He said the store is already trying to stock more of the larger bottles to meet the demand.
For more information about Bohannon's Wine and Spirits, visit the business' Facebook page.