Basehor Intermediate School students learn about Lewis and Clark trail from man who biked it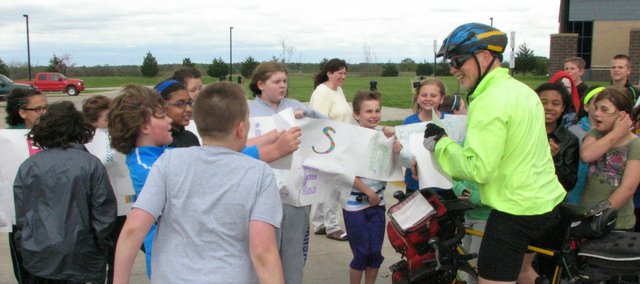 Fifth-graders at Basehor Intermediate School held a finish line made with messages such as "Awesome," and "We're proud of you," for Ray Craighead as he bicycled his way to the school Monday afternoon.
Craighead, 59, had biked for three days from his home in Moberly, Mo., to get to Basehor. The students were able to track his progress with the help of a GPS system. The weekend trip paled in comparison to the one Craighead was at the school to talk to the kids about.
In 2011, Craighead biked the entire Lewis and Clark path for 45 days, 41 of them camping in a one-man tent, from Missouri to Oregon. The fifth-graders at BIS recently studied the Lewis and Clark journey and the Louisiana Purchase of 1803. Craighead asked the eager ears of the students what types of things they thought he needed on his long journey.
A girl suggested ingredients for s'mores.
"Well, I didn't have that, but that's a really good idea," Craighead responded.
Craighead told the kids about how he conjured the confidence to make the trek. He told them that in 2006, the nation celebrated the bi-centennial of the Lewis and Clark journey. Ever since then, Craighead, a professional illustrator, began reading about their journey and the newly developed bike path that now traces the historic route.
Craighead shared pictures of his bike ride with the students who were able to see the museums and monuments erected along the path, including Sacagawea's statue and some original boats that Lewis and Clark used to travel the Missouri River.
"I went to all of the historical sites that I could," Craighead explained on Friday by phone before beginning his ride to Basehor. "When you're on a bike, it's no big deal to stop and look. When you're in a car, it's easy to pass things by."
He said that in his own small way, all the challenges he faced on his ride could be compared to the challenges of the 40-person troop Lewis and Clark traveled with. Craighead had to deal with flooding in North and South Dakota and had a number of technical difficulties with his Fuji bike.
Speaking with the students, Craighead was impressed when he asked the kids what types of challenges Lewis and Clark faced and received a host of responses, ranging from bears to illness.
The 3,162-mile journey was an exhausting journey, but one he will never forget.
"It was really a relaxing yet physically strenuous ride," Craighead said.
Craighead was contacted to speak to the Basehor students by fifth-grade teacher Michelle Ablard. Ablard and Craighead are friends who once attended the same church. Craighead had never spoken to children about his journey or the Lewis and Clark path but was excited for the opportunity.
"I jumped at it because it is a story I enjoy telling," Craighead said. "It was a life-changing experience."