Bonner taekwondo studio expands to offer t'ai chi, general fitness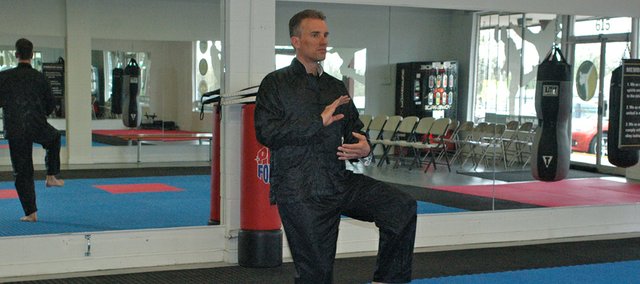 Rick Grimm hopes to help a whole new group of customers — particularly older adults and seniors — become physically fit, without much stress, strain or even sweat.
T'ai Chi Chuan, often just called t'ai chi, doesn't require a particular level of physical fitness or coordination or any fancy equipment or clothing, and yet Grimm says most people find it makes them feel younger and healthier and has even helped them recover from injuries. That's part of why he is now offering it at Grand Master Kim's Taekwondo & Fitness, 615 E. Front Street.
"I think there's a great opportunity for people who are not ready to give up on their physical fitness and are ready to learn new things," Grimm said. "The fact of the matter is you can teach an old dog new tricks, and I think that's what the motto should be for this class."
The t'ai chi classes are just one way that the martial arts studio has expanded its offerings in an effort to help more people become healthy and physically fit, which is why the studio recently added "Fitness" to its moniker.
The studio was originally located in Olathe, founded by Grand Master Nam Souk Kim, who retired in 2005. Grimm took over the studio's operations a year later and, as a Basehor resident, he thought the Bonner Springs and Basehor area was underserved for martial arts. So in 2010, he moved the studio to Bonner, first locating near WalMart and then moving downtown a year later for more space.
With 24 years of experience in martial arts, Grimm knows more than just taekwondo, in which he is a 5th degree black belt. He also has a black belt in hapkido, has studied jujitsu, judo, karate and kung fu, and has 12 years of experience in t'ai chi.
"When you're in martial arts for that long, you just eventually get out and try other things as long as you are open-minded and able," he said.
So he knows first hand a lot of the benefits of t'ai chi, a Chinese martial art and form of stylized, meditative exercise. This makes it good even for people confined to a wheelchair.
"It's absolutely zero impact, and you can do it sitting down if you need to," he said.
While students might be uncomfortable at first, Grimm said those who really apply themselves could probably learn at least the short form of t'ai chi — consisting of 24 moves — in 12 classes, giving them a daily 7- to 8-minute "workout."
Classes are offered at 10:30 a.m. on Tuesdays and Thursdays and at 7:30 p.m. Thursdays.
Grand Master Kim's now also offers eight-week-long general fitness classes — Rip Core, Fight Corps and 20-Minute Max.
Another area that Grimm would like to see expand is the studio's Little Dragons program for children 4-6 years old, which Grimm teaches. The classes, 30-minute sessions three times a week, provide a good, structured activity for young children.
"It's not about being expert martial artists; it's about taking the fundamentals and what they require, you have to know how to stand properly," Grimm said, explaining that children learn everything from the difference between right and left to basic, coordinated moves to respect for others. "All the parents say the same thing: They love it. They see a difference in their kids immediately."
More information about Grand Master Kim's can be found at http://www.gmktkd.com/, or reach the studio at 913-441-9100.