Bobcats to play for third at Butch Foster Classic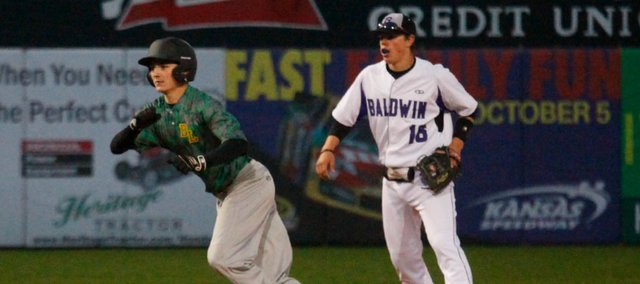 Butch Foster Memorial Classic
Thursday's scores
Paola 9, BSHS 2
Tonganoxie 3, Spring Hill 0
Perry 11, Holton 1
BLHS 8, Baldwin 2
Friday's scores
Baldwin 19, Holton 2
Perry 6, BLHS 0
BSHS 8, Spring Hill 6
Paola 5, Tonganoxie 0
Saturday's games
BSHS vs. Baldwin, Noon
Spring Hill vs. Holton, 2:30 p.m.
Tonganoxie vs. BLHS, 5 p.m.
Paola vs. Perry, 7:30 p.m.
Kansas City, Kan. — Basehor-Linwood won't hoist a championship trophy when the Butch Foster Memorial Classic concludes on Saturday, but the Bobcats can still finish with a winning tournament record.
BLHS fell in a semifinal game against Perry-Lecompton on Friday, managing just one hit in a 6-0 loss to Class 4A-II's top-ranked team at CommunityAmerica Ballpark.
After scoring eight runs in Thursday's opening-round win against Baldwin, the Bobcats (7-10) struggled mightily against Kaw starter Mitchell Bond. Bond took a perfect game into the fifth before Austin Draper knocked a two-out single into center field. Dalton Inlow was hit by a pitch following Draper's base hit, but Bond got Andrew Magana to ground out to the shortstop to end the inning.
Coach Jeff Vestal's squad was equally as ineffective against PLHS reliever Zach Linquist, who struck out six of the seven hitters he faced in the final two innings. Bryan Crowe was hit by a pitch with one out in the sixth, but Linquist fanned the next five Bobcats to punch the Kaws' ticket to the championship game.
"They shut us down," Vestal said. "The first guy we should have hit, but the second guy was throwing 88 (miles per hour)."
Perry tagged Bobcat starter Avery Fliger for two runs in the first, then tacked on four more in the second for the final margin of victory. Fliger struggled out of the gate, giving up nine hits and walking two in the first two frames.
Fliger settled in after the rough start, giving up just two more hits in the final four innings. He finished with five strikeouts in the complete-game effort.
"The next time he's going to pitch, he's throwing two innings in the bullpen before he steps on the mound," Vestal said of Fliger. "If he can only make it four, then he makes it four, but he's going to be more effective right off the bat."
In an attempt to eliminate defensive errors, Vestal has used the tournament to experiment with various defensive lineups. He said he was "on the fence" after two games, citing concerns with players' attitudes in the dugout, but the Bobcats committed just two mistakes in Friday's win.
BLHS will play Kaw Valley League rival Tonganoxie in Saturday's third-place game. The Chieftains fell to Paola in Friday's other championship semifinal game, 5-0. BLHS is 0-2 this season against Tonganoxie.
BLHS 8, Baldwin 2 (Thursday)
Basehor-Linwood got a complete-game gem from Andrew Magana in an opening-round win against Frontier League opponent Baldwin.
The Bobcats scored three runs in the top of the second for an early lead. Draper walked, Magana and Dane Quigley reached on back-to-back errors and all three came around to score for a 3-0 lead. Baldwin got one back in the home half of the inning when Collin Linder reached on an error and scored, but Magana was able to avoid any further damage
BLHS struck for three more in the fourth, getting runs from Magana, Jake Hahn and Brock Gilliam. Once again, the Bulldogs answered with a single run in the bottom of the inning when Ben Growcock singled and scored on an error. Inlow and Magana scored the game's final two runs in the fifth after drawing consecutive walks.
BLHS had just four hits — all of them singles — but drew eight walks and took advantage of eight Bulldog errors in the win.
"We keyed in on their catcher, who we felt didn't have a good arm," Vestal said. "If we could get guys on, we could steal. That was our goal, so give our guys credit. They came to play."
Magana kept Baldwin off-balance in the batter's box, giving up just three hits and striking out four. He seemingly got better as the game went on, retiring eight of the Bulldogs' final nine hitters.
"Any time (Magana) is out there, our kids are always ready to play," Vestal said. "They knows he's going to shove. He hits his spots and the kids play good defense when he's pitching."
PLHS 6, BLHS 0
BLHS 000 000 0 — 0
PLHS 240 000 X — 6
BLHS 8, Baldwin 2
BLHS 030 320 0 — 8
BHS 010 100 0 — 2