BLHS

baseball takes 4th at Butch Foster Classic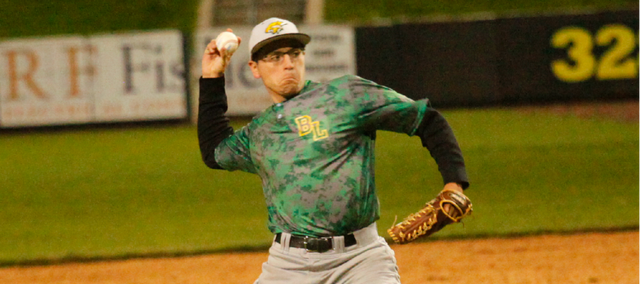 Butch Foster Classic
Thursday's scores
Paola 9, Bonner 2
Tongie 3, Spring Hill 0
Perry 11, Holton 1
Basehor 8, Baldwin 2
Friday's scores
Baldwin 19, Holton 2
Perry 6, Basehor 0
Bonner 8, Spring Hill 6
Paola 5, Tongie 0
Saturday's scores
Spring Hill 3, Holton 0 (7th)
Baldwin 6, Bonner 2 (5th)
Tongie 6, Basehor 5 (3rd)
Paola 9, Perry 1 (1st)
Kansas City, Kan. — Entering Saturday's third-place game of the Butch Foster Memorial Classic, Basehor-Linwood had everything it wanted: a chance for a 2-1 tournament record and another shot to beat rival Tonganoxie. Unfortunately for the Bobcats, neither were in the cards.
BLHS got within one run after trailing the Chieftains by five in the early innings, but couldn't complete the comeback in a 6-5 loss at CommunityAmerica Ballpark.
"Our kids panic and soon as we give up one run or make one mistake," coach Jeff Vestal said. "They never play to win. They play to lose."
After an 8-2 win against Baldwin in the opening round and a 6-0 semifinal loss to Perry-Lecompton, the Bobcats (7-11) seemed poised for a big first inning in game three. They drew three walks against THS starter Tyler Novotney and loaded the bases with one out. Jake Hahn scored when Avery Fliger drew a bases-loaded walk, but that's the only run Vestal's squad could muster.
The Chieftains (10-5) got the run back in the bottom of the inning, then tagged BLHS starter Ashton Findley for five more in the second.
The Bobcats got back within three with runs by Tyler McClarrinon and Easton Noe in the third, but again left the bases loaded. They chased Novotney when Findley hit a two-run double in the fourth. Shane Levy, who hadn't pitched this season, came in from right field with the tying run on second and two outs, but struck out Fliger to keep the lead intact.
Levy got BLHS in order in the fifth, then had to battle his way out of a jam in the sixth. Two walks and a single gave the Bobcats yet another bases-loaded opportunity, but a Fliger groundout ended the threat.
"We're chasing and swinging at 3-0 counts," Vestal said. "None of these kids have confidence. They can't deal with pressure. It might be my fault, but if I have to step it up another notch, I will."
THS failed to add any insurance in the bottom of the sixth, but Levy worked around a one-out single by Andrew Magana to cap off the win in the seventh. He struck out two in the final frame, giving him four in the scoreless relief effort.
Findley only allowed five hits in a complete-game effort for the Bobcats, but walked three batters and hit six more in the loss.
Tonganoxie is now 3-0 against Basehor-Linwood this season. The teams could meet again in a Class 4A-I regional tournament later this month in Tonganoxie. Paola went on to win the tournament championship Saturday, defeating Perry-Lecompton in the title game, 9-1.
The Bobcats will have two more chances to solidify their lineup before regionals when they travel Thursday to Class 5A Lansing for a Kaw Valley League doubleheader.
"We felt pretty good about the changes I made (in the tournament)," Vestal said. "We've still got a spot we've got to hash out, so I've got two games left to figure it out."