Phippen wins gold medal in Brazil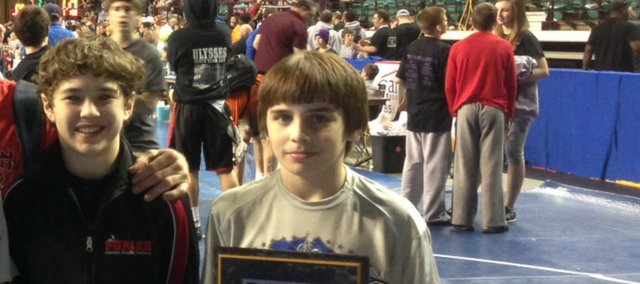 Even as an eighth-grader, Cody Phippen has been able to call himself one of the country's top wrestlers for years. Now, he can call himself one of the best in the world.
Phippen recently won his first international gold medal, going 3-0 in freestyle competition as a member of the U.S. cadet men's national team at the FILA Cadet Pan American Championships in Recife, Brazil.
A late addition to the team at 42 kilograms (92.5 pounds), Phippen was one of seven U.S. wrestlers to win individual titles in freestyle. He defeated Hygor Brasil of Brazil (11-0), Brendan McKeage of Canada (15-6) and Christian Carvajal of Venezuela (16-9). The U.S. won the team title with a score of 89 points, beating out Venezuela by five.
Phippen also brought home a bronze medal in Greco-Roman style competition. He dropped his only match to Colombia's Santiago Barrientos Ferley, 8-2. The national team had six champs in Greco-Roman and won the team title with 93 points. Brazil was second with 78.
Phippen will next compete in ASICS FILA Cadet and University Championships, which start May 22 in Akron, Ohio. If he wins, he'll qualify for the Cadet World Championships next month in Snina, Slovakia.