Basehor Planning Commission celebrates John Matthews' 21 years on the board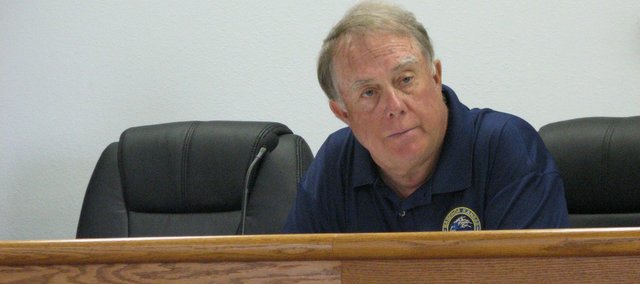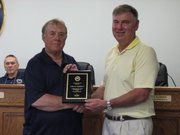 Basehor — Over 21 years of service on the Basehor Planning Commission, John Matthews, his friends will tell you, always gave more than just his time.
For City Engineer Mitch Pleak, who has known Matthews for five years (a short time compared to some other city employees and members of the planning commission), Matthews' generosity with his time came in the form of a custom made wood toy box for Pleak's 12-week old daughter.
"I spend a lot of time on those things," Matthews said about his hand-made toy boxes.
Woodworking is one of many other hobbies Matthews will have more time for as he announced that he would be stepping down from the Basehor Planning Commission this week. The city will be looking to fill his open position in the coming months.
At Tuesday's planning commission meeting, Mayor David Breuer presented Matthews with a plaque to commemorate his 21 years of service.
"I'm not sure, but I think that has to be a record," Breuer said.
Breuer spoke about his from of more than two decades and how they met in the Basehor Lions Club.
"John was always one of the first guys to volunteer for something," Breuer said.
Breuer commended Matthews' hard working on completing the sidewalk on 155th St. and the countless other projects he had a hand in while on the commission. City Council member Vernon Fields echoed Breuer's words, adding that city council has long appreciated Matthews' work.
"I know that when things have come to our table, it's already been vetted thoroughly by you and this board," Fields said.
Sometimes, as planning commission member Ed Burns said, Matthews' dedication was only matched by his complete happiness in serving.
"There's always been a smile on his face," Burns said.
Matthews moved to the Basehor area in 1982 with his family and joined the planning commission in 1992. Matthews said his plans are now to travel more with his wife, Pat Matthews. Matthews said he enjoys fishing, pheasant hunting and woodworking. He and his wife are members of the Methodist Church in Basehor.
Matthews has also served on the Leavenworth County Planning Commission for 12 years and will continue his role with the county until his term is up this summer. If he is reappointed, Matthews said he would serve again on the county board.
Matthews filled one of the two required spots on the Basehor board of a county resident living within three miles of the Basehor city limit but not in the city itself, as required by law. The City will look to fill Matthew's spot with another person fitting the same description.
While the city searches for Mathews' replacement, Matthews made sure to go out in his own style. He volunteered his time to serve on the board until a replacement is found, then pounded the gavel as his "last official act" as a member of the Basehor Planning Commission.
"If there is anything else I can do for the city sometime, please call on me," he told Breuer and his former board members.