Bobcat softball sweeps Lansing, clinches
KVL

title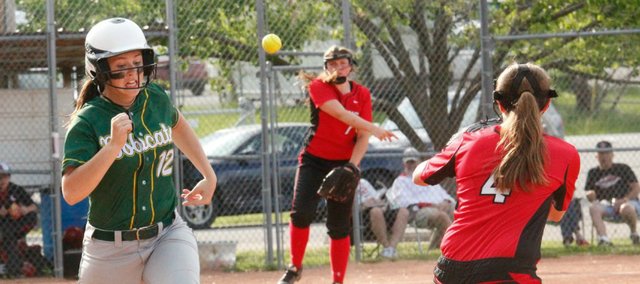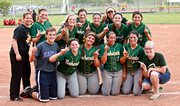 Lansing — A year ago, Basehor-Linwood and Mill Valley split the Kaw Valley League softball championship. This season, the Bobcats weren't interested in sharing.
BLHS clinched the KVL title outright Thursday, sweeping a doubleheader at Lansing, 11-0 and 10-0. They erupted for 29 hits — 13 of them for extra bases — and rode two complete-game efforts in the pitcher's circle.
"They're used to being successful," said coach Susan Mayberry, who has led BLHS to three league titles in the last four years. "We needed these two wins, and everybody was relaxed and played well offensively and defensively."
The Bobcats (16-4, 12-2 KVL) scored just one run in the first two innings of Thursday's opener, but heated up as the game went on. They plated three each in the third and fourth, then tacked on four more in the fifth. Five players had multi-hit games in the five-inning victory. Candice Jennings led the way, going 3-for-4 with two doubles and a two-run home run in the third inning.
Madison McDowell also had a three-hit game, going a perfect 3-for-3 with three singles. She also threw five shutout innings, striking out four and walking three. Lansing's Briele Rees led off the first inning with a double, but McDowell didn't allow another Lion hit the rest of the way.
A four-run second inning set the tone in the second game. McDowell started things off with a two-run triple, scoring Gaby Brown and Jenna Donnelly on a ball that got stuck in the left field fence. McDowell later came around on a single by Kayleigh Schoenfelder, then Schoenfelder scored on a Jennings sacrifice fly.
Jennings and Katie Lackner each drove in a run to make it 6-0 in the fourth, then BLHS added three more in the fifth. Schoenfelder drove in Donnelly and McDowell with a single, then scored on a sac fly by Kali Jacobson. Allison Kasick provided the final run on a solo homer in the sixth.
Asia Larsen limited Lansing to just five hits — all of them singles — in six innings of work. She struck out three Lions and walked none. Lansing only had two runners advance past first base — once in the first inning and again in the sixth — but a double play and fielder's choice ended the scoring threats.
"That's what it comes down to is just making plays, and our defense plays great," Mayberry said. "We're really playing well right now, so that allows our pitchers to loosen up."
McDowell was perfect at the plate again, going 4-for-4 with a triple and a double. Schoenfelder and Donnelly also had multi-hit games.
With their regular season schedule now completed, the Bobcats will await their regional seed. They'll host Tonganoxie, Piper and Atchison in a Class 4A-I tournament that begins May 19 at the Field of Dreams complex. The winner advances to the state tournament May 29-30 in Salina.
"I think we'll take (Friday) off and maybe take a day off next week, but we'll go at it," Mayberry said. "We're on the same and everything is falling into place. I think we'll be just fine. We're just going to be ourselves and play Bobcat softball."
Game 1
BLHS 013 34 — 11
LHS 000 00 — 0
Game 2
BLHS 040 231 — 10
LHS 000 000 — 0