Virtual School graduate joins Class of 2014, fulfills longtime dream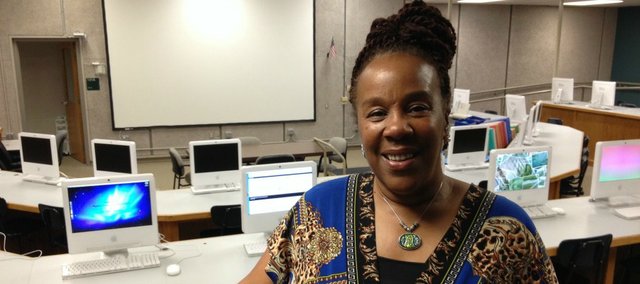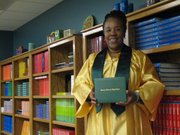 Basehor — The thought of graduating brings tears to Joyce Skinner's eyes.
Skinner never finished her senior year at Central High School in Kansas City, Mo., in 1973. She was pregnant and the school, like most at the time, offered no alternative programs for pregnant teens. She dropped out halfway through the year.
On Thursday, Skinner will walk across the Basehor-Linwood High School stage to receive her high school diploma. She is one of more than 27 students this year who earned their diplomas through the Basehor-Linwood Virtual School and will join the 138 graduates in the BLHS Class of 2014.
Since 1973, Skinner has successfully raised a family of five by working hospitality and restaurant jobs, including at the Mission Hills County Club, before becoming a managing supervisor at Kansas City Community Center, a halfway house that councils individuals battling substance abuse issues. But a shadow always lingered on her resume.
"It was my hidden secret that I didn't want anybody to know," Skinner said.
While working with and counseling men and women at the Kansas City Community Center from 2007 to 2012, Skinner said people would approach her and ask what type of college degree she had that enabled her to do her job.
"Degree? What degree?" Skinner would say.
When there was a management change at the federally funded halfway house, human resources noticed the absence of a GED on her resume.
KCCC offered Skinner, of Overland Park, the opportunity to keep her job as long as she earned her GED by the summer of 2012. So the single mother still raising three kids studied after work and began testing at Kansas City Kansas Community College.
It had been almost 40 years since she had seen an algebra equation, Skinner recalls.
"When you've been removed from education for so long, that's daunting," Skinner said. "I didn't have any of the foundation set before taking those tests."
She ended up leaving her job at KCCC in 2012 and tried for two years to pass the GED test. She says she could pass the reading and science portion of the 7:30 a.m. to 4:30 p.m. test, but would always fail the math section.
Then, an advisor at KCKCC told her about the Basehor-Linwood Virtual School.
"It was what I had been waiting for," Skinner said.
BLVS offers an education for students of all ages and specifically targets students who need something other than the classic high school classroom environment. The school was the first virtual school in the state of Kansas when it was created in 1998 and was one of only three virtual schools in the country at the time.
Nicole Hodges, director of BLVS, said stories like Skinner's are why she is so passionate about BLVS, which has graduated 373 students in its 16-year history.
"That's what drives us," Hodges said. "Yes, it's a great solution for school-age students, but it's extremely important for people who find themselves in situations where there are no other options."
Hodges said GED testing is challenging for people who have been away from education for years and are expected to be able to take an eight-hour test without individualized instruction. The GED, Hodges said, becomes a goal that people continue to test for, spending up to $100 per test, but many times fail.
"That's just a carrot that's constantly out of reach for them," Hodges said.
BLVS is unique from other virtual schools in that BLHS staff teach and work with each student rather than the student's following a mass-produced curriculum. Skinner said she was able to pass algebra A and B classes, in addition to health A and B, American government A and B and Science A and B with mentors such as Tammy Wilson Potts and other teachers at BLHS. She even received mentoring from Care Cats, a group of high school mentors, at the school.
"She recognized when she needed help," Wilson Potts said of Skinner. "When you ask and recognize that you need help, that's what opens the doors to possibility."
BLVS's future ability to help students like Skinner is in question because of the recent school funding bill signed by Gov. Sam Brownback. The bill initially proposed a 50 percent cut to virtual school funding before scaling the cuts back.
Hodges said the bill did cut Local Option Budget funding, which could total about $300,000 for BLVS. The school will continue to receive state aid for virtual school students, making the program free to participants other than book fees, which have been waived this year at BLVS.
"I worry that next year, the Legislature will dive into the adult funding piece," Hodges said.
If that happens, Hodges said, people like Skinner wouldn't be able to achieve their life-long goals. Hodges commended USD 458 for its support of BLVS and said the impact of the program has been recognized locally, if not by the state.
"People getting their diplomas improves quality of life for everyone," Hodges said. "It improves their quality of life and their ability to get good jobs. That only raises the standard for all of us."
Skinner is moving to Lexington, Ken., following her graduation to live with her grown daughter and study nursing at Blue Grass Community College. She also plans on volunteering for shelters and halfway houses.
"My passion is helping people, especially women," Skinner said.
When she finished her final classes at BLVS, Skinner said she was content with accepting her diploma at a small private ceremony. That is until her granddaughter Faneisha Hollinger, 22, convinced her otherwise.
"Oh, you're walking," Hollinger said. "You have to."