BLHS

Jazz Night puts on a show, raises money for band program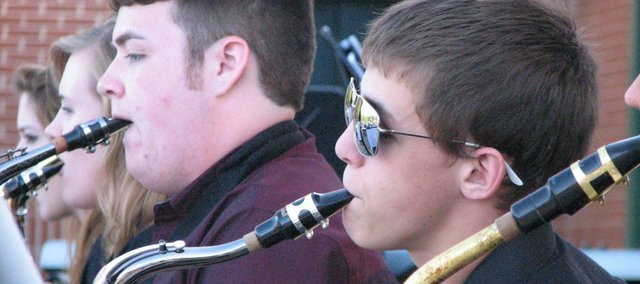 Basehor — Lines of lawn chairs filled a corner of the parking lot in front of Basehor-Linwood High School Friday night as the school's band took the chance to perform and let loose in front of family and friends.
"This is the one time of the year when people can come enjoy and layback and see how far we've come," said senior Daniel Cygan.
Cygan and the other members of the BLHS band have been competing all year long and still have several performances left before their "off-season" begins. Friday night, as the sun set over the high school, the students soaked in the chance to perform in a relaxed environment. The band's assistant director Ryan Kazmaier said this was the first time, after five years of holding BLHS Jazz Nights, to perform outdoors in front of the school.
"There's lots of family and friends and we're just playing and having a good time," Kazmaier said.
The Moon City Big Band joined the BLHS Big Band and Dr. Craig Treinen of Washburn University also performed. BLHS Band Dad's BBQ supplied food while attendees participated in a silent auction. The money raised from the event goes directly back to the band program, Kazmaier said, and is the largest fundraiser of the year for the program. The event raised about $4,000 this year.
Treinen also spent time with the band during some of their classes last week and worked on improvisation and other skills. Trienen was a graduate student at Kansas State University while BLHS band director Curtis Westbrook and Kazmaier were studying as undergraduates. The three have kept in contact, Trienen said, and Treinen was happy to come perform with the students.
"It's something the kids will remember the rest of their lives and will be able to do the rest of their lives," Treinen said.
The band will be performing Monday and Tuesday night, as well as Thursday night for the BLHS graduation ceremony at 7 p.m.