Basehor-Linwood schools donate pop tabs and keys, get a visit from Ronald McDonald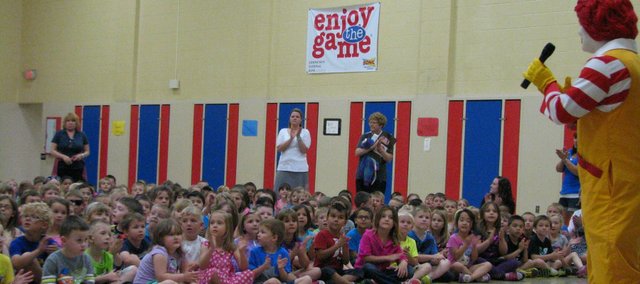 Ronald McDonald, red hair, clown shoes and all, visited several schools in the Basehor-Linwood district on Monday to say thanks for collecting pop tabs and keys to raise money for the Ronald McDonald House of Kansas City.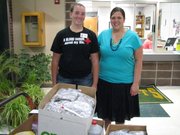 USD 458 began collecting keys this year after the high school's student council and National Honors Society was approached by Alyssa Hutchens, a sophomore at Pleasant Ridge High School. Hutchens spent 43 days in CHildren's Mercy Hospital in Kansas City in 2011 after being diagnosed with H1N1, heavy strep and pneumonia. Her family, who couldn't stay with her in the hospital, stayed at the Ronald McDonald House. Then, for three months after her hospital stay, Hutchens underwent physical and occupational therapy and her family continued to stay at the house.
Following her recovery, Hutchens began a leadership project through her 4-H club to collect keys for the Ronald McDonald House to raise money to build an additional location.
"I feel like I can make a difference," Hutchens said.
Seniors Kayleigh Schoenfelder and Mark Vitt of Basehor-Linwood High School said in January that idea to collect keys was an easy additional thing students and parents could do.
The response was enormous. The entire district collected 134 pounds of pop tabs and more than 17 pounds of keys. The tabs and keys are recycled locally and all of the benefits go the Ronald McDonald House of Kansas City.
The Ronald McDonald House of Kansas City, Mo., recently broke ground on an additional $4.5 million, 21,000-square-foot house in Kansas City near its current location at 2502 Cherry St.
Ronald McDonald Houses in Kansas City, according to Ronald McDonald House Charities, provided 2,108 overnight stays to families in the two current Ronald McDonald Houses in 2012. The houses turned away 1,072 families because there weren't enough rooms. They helped families with children receiving care from 25 different states in 12 Kansas City area medical facilities.The Ronald McDonald organization and ROnald McDonald visit more than 200 schools per year in the Kansas City area but didn't ever make it out to Basehor until this year.
Students in the National Honor Society at BLHS have also been volunteering at the Ronald McDonald House this year.