BLHS

soccer blanked at Tonganoxie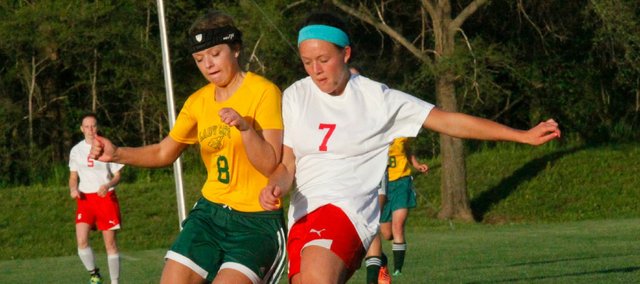 Tonganoxie — The Basehor-Linwood girls soccer team fell behind by three goals at halftime and never recovered in a 7-0 loss Tuesday at Kaw Valley League rival Tonganoxie.
Though the Bobcats (3-10) entered the break on the wrong side of a 3-0 score, coach Erik Jones said he was pleased with the way his squad battled the Chieftains (8-7-1) in the opening period. However, things started to come unraveled when Emily Soetaert scored just 2:51 into the second half, giving THS a 4-0 advantage.
"That definitely deflated us for sure," Jones said. "When we went into halftime, even though the result was 3-0, we still felt like we were working hard and did a lot of good things. But, when we got scored on in the first five minutes, our heads were down."
Tonganoxie scored again less than five minutes later when Mackenzie Price headed a pass from Madison Simmons past Bobcat keeper Brianne Kennedy, then Simmons scored off a pass from Soetaert midway through the half.
Rachel Schuck capped off scoring with 14:41 to go. Kennedy came out to block a shot attempt by Morgan Galvin, but the ball bounced right to a wide open Schuck, who fired it into the empty net.
"Give Tongie credit. They just kept going at us," Jones said. "We've got to come out better in the second half with a better effort."
BLHS kept the Chieftains off the scoreboard in the first half until Soetaert broke free down the left side of the field after an inbounds throw by Taylar Morgan. She crossed over Kennedy and tapped the ball in, breaking a scoreless tie with 28:29 to go. Price scored on a shot from near the right sideline with 16:10 to go and Simmons made it 3-0 with 10:35 left.
The Bobcats will have an opportunity to end their regular season on a winning note — and perhaps improve their regional seed in the process — when they travel Friday to KVL opponent Bishop Ward.
"It's a big game for us," Jones said. "It's going to help us seeding-wise and could potentially play us into a first-round bye. Any time you can get more wins, your confidence is going to be up."