Dead tree in Baldwin City's Oakwood Cemetery to become angel carving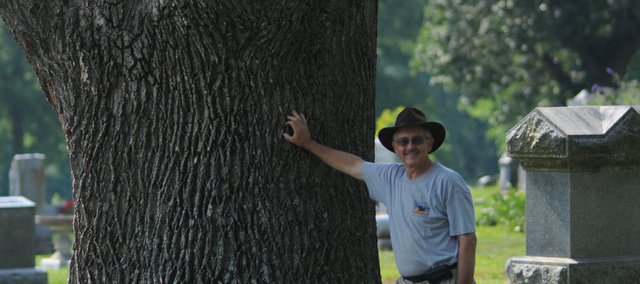 What remains of a century-old yellow poplar tree in Oakwood Cemetery that fell victim to the 2012 drought will soon be a work of art.
It became apparent late last spring the tree, which at that time was the largest tree in the cemetery at about 100 foot tall, was dying from the effects of the drought and a lightning strike from a few years earlier. Roger Boyd, Baldwin City Tree Board president, estimated the tree was at least 100 years old and speculated it might date back to the cemetery's founding in 1869.
The tree's branches were cut away last year, leaving only a 10-foot-tall stump. Councilman Shane Starkey, who is on the council's community enhancement sub-committee, said the city will pay $700 for chainsaw artists Vicki and Patrick Langton of Perry to carve an angel from the large stump, which measures 14 feet, 8 inches in circumference.
"I've seen some of their art over the years," he said. "We'll get a nice piece of art for the cemetery at about the price it would cost to get rid of what's still out there."
Vicki Langton said she and her husband had other projects to complete before they could get to Baldwin City. They would probably carve the Oakwood Cemetary tree in late July or early August, she said.
Many of those projects are angels she is carving for other Kansas cemeteries, Langton said. She could duplicate that design in Oakwood Cemetery, depending on the condition of the stump, she said.
"There's concern it might be hollow," she said. "If it is, we'll do a relief carving of an angel. We'll open it up at the top to see. Hopefully, it's solid in the center and down toward the front so we can carve a 10-foot-tall angel."
Langton said neither she nor her husband had carved yellow poplar before. The tree, also known as a tulip tree for its large spring flower, is native to the Eastern United States.
"This has us stumped," she said. "We'll have to cut into it and see what the grain looks like."
Langton, who was a psychiatric nurse at Menninger's in Topeka before the famed psychiatric center moved to Houston, became a chainsaw artist 15 years ago after trying to negotiate a lower price on a carving in Eureka Springs, Ark.
"The artist just saw a 4-foot, 11-inch blonde," she said. "He said, 'Little lady, if you think you can do this, go home and do it.'"
It will be a homecoming of sorts for Langton, whose spent a good deal of time in Baldwin City growing up while visiting her late grandparents, Mabel and Harold Hutton. Langton said she and her husband also had a booth at the Maple Leaf Festival for several years before they got too busy with other commitments.