McClain takes 2nd at
KVL

golf tourney
Braves finish 4th, Bobcats 6th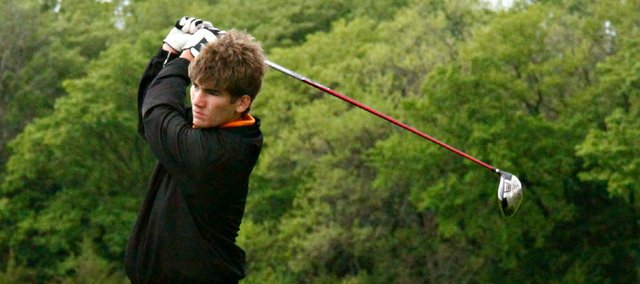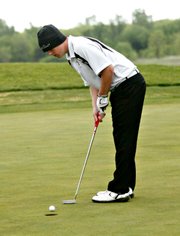 Lawrence — Scattered rain showers and low temperatures set the tone at Monday's Kaw Valley League golf tournament, but that didn't deter Bonner Springs' Marc McClain from recording yet another top-five individual finish.
The Brave senior finished second only to Tonganoxie's Drew Sandburg, carding a four-over par score of 76 at Eagle Bend Golf Course.
McClain trailed Sandburg by a single stroke after the front nine, but two bogeys in the final three holes allowed Sandburg to open up a three-stroke lead entering the 18th hole. Both golfers bogeyed the final hole, and Sandburg secured the individual title with a 73.
McClain was Bonner Springs' only individual medalists, but the Braves finished fourth in the team standings with a score of 349. Caleb Malone finished just outside the top 10 with an 84, and Jake Laing (89) and Stevie Greer (100) rounded out team scoring. Nathan Hinton and Kyle Dumler were originally set to compete as well, but withdrew before the tournament.
Basehor-Linwood was also in action and received a top-10 finish from sophomore Ryan Potter. Potter led the Bobcats with a 10th-place score of 82. He was followed by Johnny Harms (96), Bret Fritz (104), Tyler Kendrick (105), Jack Walsh (107) and Landon Fliger (110). BLHS finished sixth as a team with a 387.
Class 5A Mill Valley won the team title with a 319, beating out 2013 league champion Piper by 13 strokes. Only six schools recorded team scores, as Turner and Bishop Ward didn't field full teams.
The Braves and Bobcats will both return to the course at 10:30 a.m. Monday at a 4A regional hosted by Tonganoxie at Sunflower Hills Golf Course in Bonner Springs. The 10-team field is comprised of host school Tonganoxie, BLHS, BSHS, Atchison, De Soto, Bishop Ward, Piper, Perry-Lecompton, Bishop Miege and Spring Hill. The top two teams will advance to the 4A state tournament, set for May 27 in Mayetta. The top five individual scores not on qualifying teams will also earn state bids.
Overall team results
Mill Valley, 319; 2. Piper, 332; 3. Lansing, 342; 4. Bonner Springs, 349; 5. Tonganoxie, 369; 6. Basehor-Linwood, 387.
Top 10 individual finishers
Drew Sandburg (TON), 73; 2. Marc McClain (BON), 76; 3. Jalen Oehlert (MV), 77; 4. Nathan Brinker (MV), 79; 5. Jack Casburn (MV), 80; 6. Lance Hodges (LAN), 80; 7. Luke Russell (LAN), 80; 8. Eric Pahls (PIP), 81; 9. Blaine Smith (PIP), 82; 10. Ryan Potter (BL), 82.