Basehor, Bonner teachers say students flourishing with Common Core math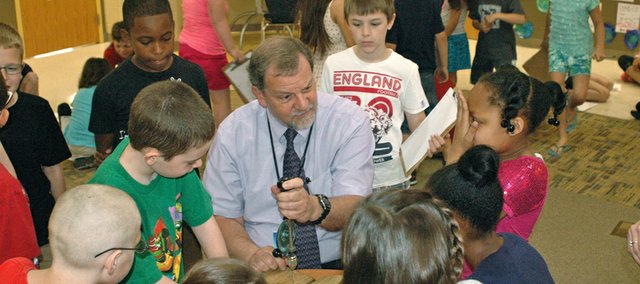 Joy Marts's third-grade class at Delaware Ridge Elementary was getting ready Monday for a project that would require them to use math and science concepts.
The students were breaking into groups to brainstorm how their class, as well as the other two third-grade classes, might best construct an owl box using a limited number of materials. The lesson, which exemplifies the new Common Core standards, had the students using their measurement and engineering knowledge from math and the information they had learned about owls in science.
"I had an idea," Ethan Miller noted before the groups went to work. "Since the paper we're drawing on is kind of small, I made it so every inch that I draw is worth 5 inches in real life."
Ethan couldn't quite remember the term for the skill he was describing — scale — but his comment was an example of how the new Common Core standards encourage students to use their knowledge and reach the correct answer in different ways.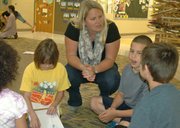 With all of the media and political controversy about the new Common Core educational standards, some of the most vilified standards are those related to math. While some criticize the way Common Core standards ask students to solve math problems in different ways rather than the "old fashioned" way, area teachers say that while it is certainly challenging, teaching lessons in this way is helping their students become better thinkers.
"We've had several times where we as teachers have had to step back and say, 'Wow, this is hard,' but it's a good thing," Marts says. "When I look at the way my students are able to problem solve, and the work we had them doing this morning that was challenging and different, and not a single one of them looked at me and said, 'I can't do this.'
"Even if they're not sure of exactly what to do the second they get it, they know so much more about how to solve problems. And I'm not sure there's a more real-world skill than that: Helping them solve problems no matter what that problem is. It's such a good thing."
Clearing misconceptions
There are several "examples" of Common Core math problems circulating through the media from those opposed to the new principles.
One that has been making the rounds on Facebook shows the "old-fashioned way" of solving 32-12=20, and the Common Core way, showing a seemingly convoluted set of addition problems used to get the same answer.
Cindy Kapeller, principal at Delaware Ridge, said many of the examples given by Common Core opponents aren't true examples of the new principles, which seek to have students learn to solve a problem in several ways.
"I think some people have gotten the idea that if a kid can justify their answer, no matter what their answer is, it will be right," Kapeller said. "Ultimately, they still have to have the right answer, but they may have taken multiple ways to get to it."
The teachers at the middle and elementary schools in the Basehor-Linwood and Bonner Springs-Edwardsville school districts have been implementing Common Core teaching strategies since 2012.
Michelle Ablard, fifth-grade teacher at Basehor Intermediate School, and Julie Lovenstein, fourth-grade teacher at Glenwood Ridge Elementary, said kids are now presented a math problem, along with several ways to solve it. The students, on a much more consistent basis, are given models and physical objects with which they can work out problems.
Marts said students still will memorize addition, subtraction and multiplication facts.
"But before we worry about multiplication facts being memorized, we spend a significant amount of time helping kids understand what it really means to multiply," she said. "For someone like me, I'm 30, I was educated in the '80s and '90s. The way we did things was definitely different. But at the end of the day, what the Common Core is teaching our kids is how to solve problems in the real world, not just how to compute something for the sake of finishing an assignment."
Amy Irvin, a fourth-grade teacher at Glenwood Ridge Elementary School, said the curriculum she is teaching to prepare the students for testing is both more challenging for the students and the teachers.
"I have had students who have found ways to answer questions that I never thought of," Irvin said. "I have students answering word problems that two years ago they never would have gotten."
Irvin said concerns about Common Core controlling curriculum in the classroom are unfounded and that teachers are given the same amount of autonomy that they had before.
Up to the challenge
The transition hasn't been easy for some teachers.
"I've had to study myself," Ablard said.
USD 204 teachers agreed there were difficulties.
"Is it hard? Yeah," Marts said. "The first step is teachers having to understand what the standards are really about so that we can therefore teach them in a way that makes sense, because if the vocabulary and rigor are both more difficult, we can't just throw it at the kids and expect that they'll automatically get it."
Melissa Corcoran, fourth-grade teacher at Delaware Ridge, said it was definitely a challenge to retool lessons.
"Being able to instruct the students so that they're not only getting to the ultimate answer, which is of course our goal, but being able to explain where they started, why they started and what happened in between," she said. "That was probably the biggest shift for me, figuring out how was I going to teach this without giving them the answer so they can discover it. … I had to reteach myself really why it meant what it meant because I was not instructed in that way."
Teachers admitted it did cause some frustration with both the students and parents. For example, Adam Meschke, Delaware Ridge fifth-grade teacher, said the old Kansas standards didn't focus on fractions that much for third- and fourth-graders, and now in fifth-grade, students are facing lessons full of fractions.
"They had some gaps that took a while to figure out," he said.
Corcoran said classroom discussions early in the year helped prepare the students.
"We talked about how learning is going to feel different, it's going to look different," she said. "We won't spend just one day on a certain skill, we're going to talk about it from a bunch of different perspectives."
Delaware Ridge teachers also have provided parents with resources to help them understand how children will learn now. Marts said many parents have approached her, confused because their children's lessons are so different. But so far, few have viewed the new lessons negatively.
"Every parent that has approached me has been from a place of, 'OK, what can I do?'" she said. "With adults, as soon as you work your way through it and show them the expectations with this strategy, they're so willing and really kind of funny. They're like, 'Oh, I totally get that.'"
Worth it
Both Basehor-Linwood teachers said the transition was worth it because of the improvement they've seen in their students. Lovenstein said the learning style is different, but even more effective than how she was teaching just three years ago.
"When I first saw it, I was like, 'Oh my gosh, this is going to be tough,'" Lovenstein said.
"I think it can be hard for parents because it is different than what we were all used to, but that doesn't mean that it's wrong or bad."
Bonner Springs-Edwardsville teachers agreed. Meschke said he has students who were behind in their math skills, and while they might not be where they need to be yet, they made several years' worth of progress in just one year this year.
"I feel like kids now are better problem solvers, better critical thinkers, so much more well-rounded after one school year," Corcoran added, saying students' scores were outstanding on this year's math assessments. "They'd get to a difficult problem, and they'd be like, 'Well, this is what I know, I'll build off of this.'"
Irvin, Ablard and Lovenstein, each teaching different levels of math curriculum in USD 458, all say that the state needs to let a generation of students progress through this system before opting out of Common Core.
"Let's see what these kids can do in five years," Lovenstein said.
Corcoran agreed. She said she has heard some people say Common Core is an example of what is wrong with American schools, why American students are lagging behind. But she said if they truly understood the principles, people would see that Common Core is a necessary solution.
"It wasn't cutting it, where we were at; we were not reflecting college readiness, we weren't reflecting those critical, lifelong learning skills, those 21st century learning skills, for our kids to do absolutely whatever they want to do when they go to college," she said. "They need to give it time, they need to watch the growth of their child … give it a couple of years and see where they're at, and I think it will be clear as day that this is the answer to our problem."