Face to Face: Amber Anderton, owner of Wagg'n Tails Day Spa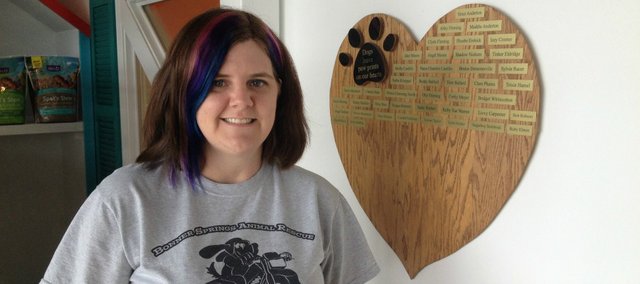 Name: Amber Anderton
Birthplace: Kansas City, Kan.
Family: Two daughters, Taylor, 7, and Sara, 11, and two sons, Peyton, 8, and Jonathan, 9. Three dogs and two cats.
Occupation: Owner of Wagg'n Tails Day Spa, 15630 Pinehurst Drive.
Dream job as a child: Anderton has always wanted to be an animal trainer. In 2004, she accomplished her goal after completing a dog trainer course at PetSmart. She has been training animals ever since.
She said her love of animals began at in kindergarten on a trip to Sea World.
"I went to Sea Wold and I got to watch the dolphins and I remember wanting to be a trainer after that," Anderton said.
Her visit with the dolphins at Sea World was even published in The Basehor Sentinel at the time.
Digging Deeper: Anderton spent a few years after her high school graduation doing something she misses today: firefighting.
Anderton joined the Bonner Springs Fire Department as a volunteer firefighter because of some friends she had in the department. She also lifeguarded for a time. Anderton said she misses responding to emergency calls and being able to help people in difficult situations.
"Being on scene, being able to help someone that may be scared or whatever the case it, I miss it a lot," Anderton said.
Anderton, on two occasions, had to rescue animals from building fires. The second of which, she was responding to a building fire with a cat trapped inside.
"Since I was the animal lover, someone grabbed me and told me to get," Anderton said.
Anderton saved the cat, but when she tried to put an oxygen mask on the cat after getting it out of harms way, the cat scratched and tried to get away from her.
"It just wanted to get as far away from everything as possible," Anderton laughed.
Anderton said smoke is just as dangerous for animals as it is for people and when she opened Wagg'n Tails Day Spa in 2012, she raised money to donate three animal oxygen masks to the Fairmount Township Fire Department in Basehor. Anderton sad she would volunteer for the Fairmount Township department if she wasn't raising four children and running a business.