Basehor Chamber of Commerce celebrates opening of Jalapeños Mexican Grill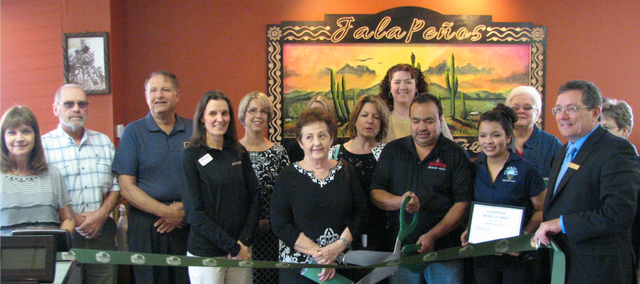 Francisco Mendez heard the rumblings and knew what he needed to do.
Mendez decided to open another location of Jalapeños Mexican Grill in Basehor in April to answer a question he was getting from residents in the area.
"People were asking me a lot, saying we need a Mexican restaurant," Mendez said recently."I got the opportunity and took it."
Mendez, along with two other owners, also own three El Mezcal locations in Lawrence and two in Topeka. They also owns the Jalapenos Mexican Grill in Tonganoxie, which opened in April 2012.
Located in the former location of the 24/40 Cafe, tucked on the back side of the Basehor Town Square off Wolfcreek Parkway, Jalapeños Mexican Grill is now open 11 a.m.-10 p.m. seven days a week.
The menu is similar to that of El Mezcal restaurants and the burrito gigante, chimichanga and fajitas among a long list of other offerings.
"It's been really good," Mendez said, "the response has been great."
Mendez said the business' lunch traffic has been steady but the restaurant is busiest during dinner hours.
On Thursday, the Basehor Chamber of Commerce welcomed Mendez and the restaurant as new chamber members and celebrated the restaurant's opening with a ribbon cutting and plaque presentation.