Basehor-Linwood Project Lead the Way students present senior projects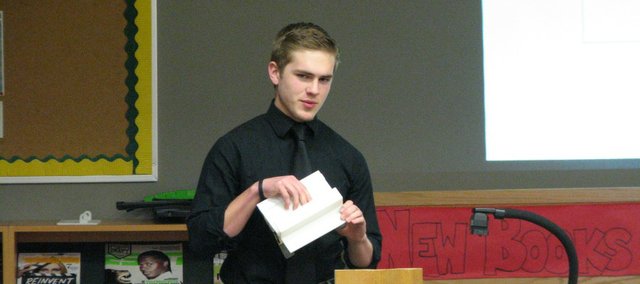 Basehor — Wish you could scrape the ice off your windshield during the cold winter months without getting out of your car with a hand-held ice scraper? Students in the Basehor-Linwood High School pre-engineering design and development class, the capstone of the Project Lead the Way, designed a prototype to help you.
Rachel Kamm, Katie Tindell and Clayton Kaminski developed attachments to windshield wipers that were designed to break up and scrape off ice on car windshields. Their project was one of several that were presented last week to parents, teachers and school staff.
"This winter, we all realized how much we don't like scraping off our windshields," Kaminski said of the inspiration for their project.
The project did have some challenges to overcome, including designing something that could fit on any windshield wiper and effectively scrape off ice. The students developed a prototype but said more work was needed to create something that could actually be sold on the market.
The goal of the pre-engineering and development class, taught by Stephanie Harris, is for student groups to come up with an original design and make it a reality over the course of their senior year. For Brent Waller, who will be attending Kansas University next year to study mechanical engineering, the class offers students a unique challenge.
"We really have the freedom to do whatever we want," Waller said. "It makes me even more interested in engineering and it gives me a better understanding of what things will be like, designing in the real world."
Waller, along with Avery Fliger and Austin Rowland, designed a baseball catcher's mask called "The Concussion Conqueror." The helmet modified the current catcher's mask design by further angling the mask that protects the wearer's face from the baseball. Rowland told the audience last week at the presentation that the masks currently used absorb most of the impact from the baseball if hit and the result can be a severe concussion. So the students created a mask that points out more and would deflect a ball to the right or left of the catcher's head without absorbing the entire impact.
Other projects included the "Tablet Tamer," designed by Eric Purrington, that latched tablets to kitchen cabinets so as to free up counter space while in the kitchen.
Jacob Zamora, Jack McCraney and Nathan Lucas designed "The Cordinator," which organizes computer chargers, USB and other electronic cords into a neat, organized box.
Jake Phillips, Austin Sinclair and Nick Genz designed a rotating platform for nursing homes and other medical care residences in which patients could be lifted and moved more easily by nurses and assistants.
Jessica Budy, who will study architectural engineering at KU next year, designed "The Magic Measurer." Budy designed a cup measurer with an attached leveler that also collected the excess product being measured for cooking. Cory McCleary, who will study physics at Central College in Iowa, designed a brake caliper depressor for mechanics.
McCleary presented his design earlier this month at Wichita State University's engineering scholarship competition. He said he was inspired to create the device after speaking with mechanics who work on school buses. He said that mechanics, whenever the disk brake wears out on a bus, must manual depress the brake calipers, which takes a substantial amount of time. McCleary's design would double mechanic's efficiency by allowing them to push in the brake pistons at the same time.
"They said if I had multiple of them down at the shop, they'd sell like hotcakes," McCleary said after showing the mechanics his final design.
The results from this year's WSU engineering contest were announced this week but non of the BLHS projects were selected as winners. Last year, Jared Kenton and Paul Rehm won the competition and a $2,000 scholarships to study engineering at WSU for their design of The Hanger Pro, a modified coat hanger.