Basehor police officers honored for work in local investigations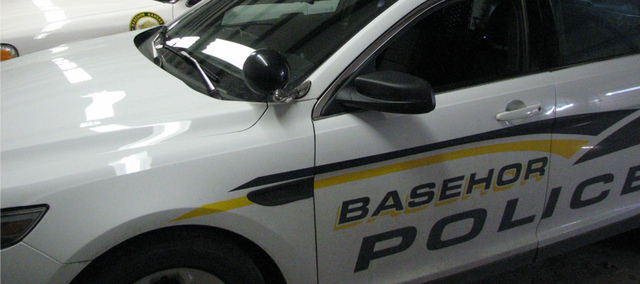 Basehor — Two Basehor police officers humbly received plaques and were honored recently by the city council and city staff for their work on two in-depth investigations conducted over the past year.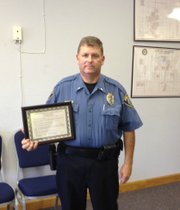 "It means a lot to me," said Lt. Robert Pierce. "We don't really seek out recognition like this, we just do our job."
Pierce was honored for his work tracking down a ring of three women who were using counterfeit checks to purchase merchandise in Basehor and other Kansas and Missouri towns. Sergeant Dave Duvall was honored for his investigative work involving a local man in possession of child pornography. Police Chief Lloyd Martley presented the officers with the plaques and commended them for their work.
"Both of theses cases took a lot of work and were difficult cases," Martley said.
In April 2013, a local store manager contacted police, Martley said, after receiving two counterfeit checks. The manager of the store obtained the license plate number for the three women who used the checks and called the bank to confirm that they were counterfeit, Martley said.
Pierce, who has been in law enforcement for 25 years and served as a Basehor police officer for more than six years, said he had a hunch that the women would go back to the store to try to return the merchandise in exchange for cash.
"It was just based on experience with this type of case and a hunch," Pierce said.
The next day, the women returned to do just what Pierce thought. The store manager again called police and Pierce was able to catch the suspects while they were at the store, Martley said. The suspects gave Pierce consent to search their car, Martley said, where Pierce found clothing, sealed packages, work boots, motor oil, a coffee maker, running shoes, styling irons, a laptop computer, a printer and 1,500 blank personal and business checks commonly used by counterfeiters and forged check offenders.
"This particular ring of women were doing this throughout the region," Martley said.
Pierce said much of the merchandise found was from Mission and Overland Park, as well as Belton, Mo.
"They'd been out on a shopping spree," Pierce said.
Charges remain pending against the women in state district court, Martley said.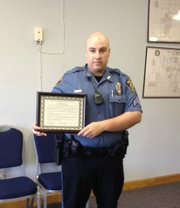 Duvall received recognition for a "troubling" case involving a local man who eventually committed suicide during an FBI and local investigation into his possession of child pornography, Martley said.
On Oct. 7, 2013, Duvall responded to a call about a possible suicidal man, according to Martley. After transporting the man to the hospital, his spouse told Duvall that she had found child pornography on some digital storage devices belonging to her husband, Martley said.
Over a period of four months that included about five search warrants to search three computers and other storage devices, Martley said, Duvall found about 38,000 pornographic images that included children under the age of 18. Duvall contacted the FBI and its Investigations Child Exploitation Task Force to pursue federal prosecution of the suspect. Before charges could be filed or the investigation completed, the man committed suicide in a Kansas City, Kan., apartment, police said.
"This took a lot of time," Martley said. "These types of cases are very hard to work, they're very troubling."
Duvall, a Basehor police officer since 2010 with 10 years of law enforcement experience, said he had never handled a case like it.
"I still feel for what the family had to go through and is still going through," Duvall said.
The city council thanked the officers for their work on Monday, just one day removed from National Police Week. In 1962, President John F. Kennedy proclaimed May 15 as National Peace Officers Memorial Day and the calendar week in which May 15 falls, as National Police Week.
"This work right here helps to keep our community safe and it helps keep our community secure," said council member Vernon Fields. "Chief you've got two good ones here."
Council member Brian Healy, along with Mayor David Breuer, and the other members of the council echoed Fields' statement.
"It's a privilege to live in a community with you and to know how hard you guys work for us," Healy said.