BLHS

baseball drops regional final in 9 innings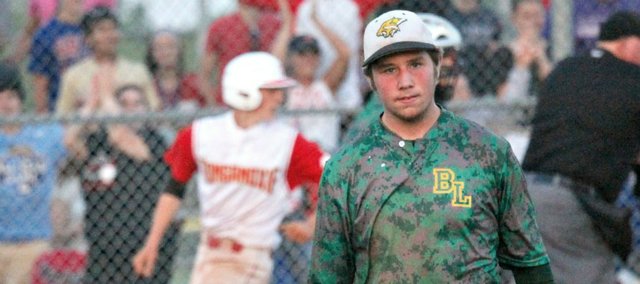 Tonganoxie — Earlier this season, Jeff Vestal never would have imagined his team in this situation.
Following Basehor-Linwood High's 2-1, nine-inning loss to rival Tonganoxie in Monday's Class 4A-I regional championship game, the first-year Bobcat coach made sure his squad knew just how far it had come. A sense of disappointment was evident throughout the dugout, but the way Vestal sees it, today's heartbreak should lead to tomorrow's success.
"If you take this team today and our first 10 games, it's not even the same," Vestal said. "I told them hold their heads high. Let's put it this way: We were a three seed, they were a one seed and we had them scared."
BLHS (9-13) got a career pitching performance by Avery Fliger, but a throwing error in the bottom of the ninth ended the Bobcats' upset bid and sent Tonganoxie (15-7) to its first state tournament since 1992.
After handing Atchison a 3-0 loss in semifinal action Monday afternoon, BLHS found itself in a 1-1 tie after the regular seven innings. It faced a bases-loaded situation in the eighth when Tyler Novotney reached on an error and Fliger intentionally walked Shane Levy and Connor Wentz-Hall, but a Thomas Minor flyout to center ended the threat. The Bobcats got two base runners in the top of the ninth, but THS reliever Travis Woods struck out the side to keep the game tied.
Ty Hampton took a pitch to the helmet to open the bottom of the inning and moved to second on a wild pitch with Billy Kelley at the plate, then broke for third on a bunt attempt. First baseman Ashton Findley fielded the bunt and threw to third, but his throw went past third baseman Andrew Magana and into left field. Hampton cruised the final 90 feet and was mobbed by teammates after touching the plate.
"(Tonganoxie coach Mitch) Loomis does a great job with a great team, and they deserve it," Vestal said of the Chieftains, who the Bobcats failed to beat in four meetings this season. "But, I'm pleased with the way the came and competed."
THS struck first when Levy singled home Brady Swedo in the first inning, then the Bobcats answered with an RBI single by Brock Gilliam in the third. They got a chance to take the lead in the fifth when Jake Hahn singled with Dalton Inlow on second base, but Novotney threw a strike from left field, nailing Inlow at the plate to keep the tie intact. One inning later, center fielder Colten Weaver and Swedo teamed up to gun down Findley at third base when he tried to stretch a one-out double into a triple.
Despite taking the loss on the mound, Fliger allowed just three hits — all of them singles — and two unearned runs in eight full innings. He struck out five batters and only issued two intentional walks in his final high school start.
"He flat-out wanted it," Vestal said.
Chieftain starter Justin Wagner went pitch-for-pitch with Fliger, giving up just one run on six hits in 7.1 innings. He walked one batter and hit another, but racked up eight strikeouts. Woods relieved Wagner with one out in the eighth. He gave up a bloop single to Abe Ruffcorn after getting Findley to fly out, but struck out Tyler McClarrinon to end the inning.
The loss marks the end of the road for seniors Fliger, Inlow, Ruffcorn, Magana and Bryan Crowe, but the Bobcats will return several regular starters in Vestal's second season at the helm.
"We've got to build off of this," Vestal said. "It hurts, but it's not the end of the world."
BLHS 3, Atchison 0
Magana allowed just three hits in a complete-game shutout as BLHS knocked off second-seeded Atchison in Monday's regional semifinals.
The Bobcats broke open a scoreless tie in the third inning when Crowe walked and later scored on a sacrifice fly by Fliger. They added two more runs in the fifth for the final margin of victory. Crowe singled home Inlow and later scored on a wild pitch to give Magana some additional breathing room.
BLHS struggled throughout against Atchison starter Tanner Huntington, striking out 13 times and managing just three singles, but took advantage of four walks and several AHS errors in the win. Hahn had the only multi-hit game, going 2-for-4.
Magana struck out just three hitters, but thanks to some help from his defense, he never faced more than four hitters in any inning.
Tonganoxie 2, BLHS 1 (9 innings)
BLHS 001 000 000 — 1
THS 100 000 001 — 2
BLHS 3, Atchison 0
BLHS 001 020 0 — 3
AHS 000 000 0 — 0