Bobcat soccer eliminated in regional opener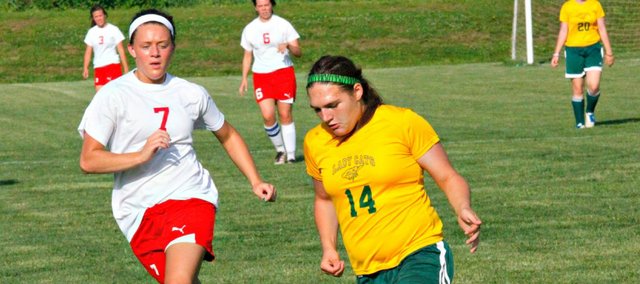 Tonganoxie — For the second time in as many weeks, the Basehor-Linwood girls soccer team found itself in a road dual with rival Tonganoxie. Tuesday's rematch resulted in another shutout loss to the Chieftains, but the game was hardly comparable to the drubbing BLHS took a week ago.
The Bobcats saw their season end with a 3-0 loss in Class 4-1A regional action Tuesday at Chieftain Park, but according to coach Erik Jones, they took several strides since suffering a 7-0 setback May 13 at the same venue.
"When you get beat 7-0, there's a lot of room to make adjustments," Jones said. "Seeing them (last week) and seeing what they did, we were able to make adjustments, especially on the back line. We were packing it in quite a bit and trying to not allow service into the box or outside shots. We weren't able to generate some of the offense to get a goal or two back, but seeing them and making adjustments helped us out."
Tonganoxie (9-7-1) came up empty on several early shot attempts, but cashed in on a shot by Joanna Filbert with 28:56 remaining. Filbert got a look off a corner kick from Emily Soetaert and got the ball just inside the left post for a 1-0 lead.
The Chieftains nearly doubled their advantage on a penalty kick by Madison Simmons less than four minutes later, but goalkeeper Brianne Kennedy stopped the shot attempt to keep the deficit at one goal.
The Bobcat defense kept THS from scoring again until Emily Hummelgaard bounced a shot off the post and into the net with 8:59 left, and the score remained 2-0 at the break.
Filbert scored again off an assist from Simmons about 10 minutes into the second half for the final margin of victory. The Bobcats got arguably their best chance to answer on a free kick by Tiffany Hazel with 8:39 to go, but THS keeper Lauren Jackson corralled the shot attempt.
The loss marks the end of Jones' first season, as well as the careers of seniors Hailey Robinson, Chellcy Miller, Jordan Nirschl, Ally Laney, Ellen Seaba and Kara Stephens. With several underclassmen returning in 2015, including several who got significant varsity experience this spring, Jones said there's reason to be optimistic about the second year of his tenure.
"I think we've started to turn the corner a little bit," he said. "It's going to be sad to see our seniors leave, but our team is pretty young, for the most part. It's nowhere near where we need to be, but we made strides. I think we got better towards the end, and that's what we wanted to do."