Basehor Chamber of Commerce cuts ribbon for Reece
&

Nichols at Basehor Town Square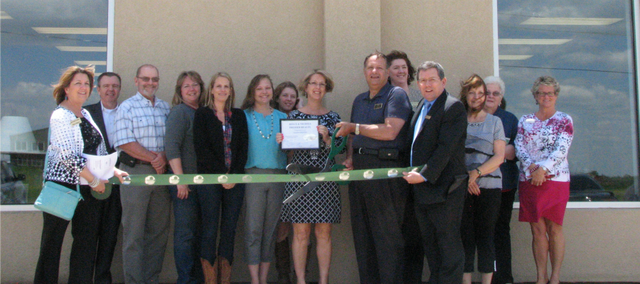 Basehor — The Reece & Nichols Real Estate business and its staff is no stranger to Basehor after serving the community for 21 years. But last Thursday, the business finally celebrated its official ribbon cutting with the Basehor Chamber of Commerce.
"We've been here a long time," branch manager Steve Rosenthal said. "Through the tough times, the bad times, the good times and the really good times."
The ribbon cutting ceremony last week marked the one year anniversary of Reece & Nichols moving into its current location in the Basehor Town Square facing Wolf Creek Parkway.
Rosenthal said the business is doing great this year after a down period about three years ago.
"Things have really picked up," Rosenthal said.
According to figures provided by City Attorney Lloyd Martley at last month's city council meeting, the city is seeing continued growth in building permits for houses. So far this year, Martley said, the city has received more than 40 requests, which is on pace to surpass last year's record of 87.
The median home value in Basehor, KS is $150,400, according to the Reece & Nichols website, which is higher than the county median home value of $126,100. The national median home value is $152,300. Approximately 73.21 percent of Basehor homes are owned, compared to 19.88 percent rented, while 6.91 percent are vacant, the website states.
Reece & Nichols has a team of about 17 realtors in Basehor and Bonner Springs.
"We've really got a great team here," Rosenthal said.