Bonner, Basehor library promises to put some Fizz, Boom into summer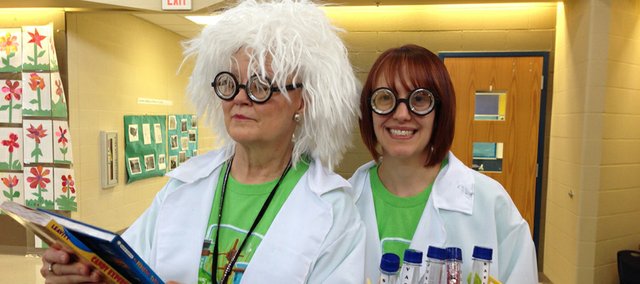 Summer Reading at the Bonner Springs City Library and Basehor Community Library is going to be jam-packed with activities.
Lesley Lard, youth and teen librarian, said it was almost too much to fit on the June and July calendars the library printed out.
"It's a lot this year," Lard said. "It kind of started off, we kept thinking, 'Oh, we need to add more,' and then all the sudden, when I was doing the calendar, I was like 'Oh!' We definitely have more than last year, but it's a good variety."
This year's reading program, entitled "Fizz, Boom, Read," has a science theme, which Lard said got the librarians excited.
"I think we have enough to appeal to everybody, but science opened it up for us to do lots of things we haven't done before," she said. "I'm doing a lot for grade school kids and teens with experiments, which I think is good for boys — we're hoping to get more boys this year, because sometimes that's a little tough."
Registration for summer reading begins Tuesday, and sign up for June's special program starts at 9 a.m. May 31 — which is also the first day participants can collect prizes for turning in reading logs, and the library will celebrate with ice cream sundaes from noon to 2 p.m. Sign up for July's special programs starts June 14.
Registration for the Basehor Community Library "Fizz, Boom, Read" program began May 26 online and at the library. A kick off party for the reading program will be from 4 -7 p.m. June 4 and will include appearances from Star Wars themed characters and free hot dogs for the first 300 people. The Fizz, Boom, Read program is available for kids up to the age of 11.
Lard recommended participants look at the special programs calendar to make their plans soon, sine the library dives right in with special programs the first week of June. One June 2, there's a "Candy Science" Teenopolis program and an all ages "Science City: Volts & Jolts" program. Three days later, smaller children ages 3-5 can take part in "Mad Science Shapes & Structures" at two different times in the morning, and a Kidscape version of "Candy Science" at two different times in the afternoon.
The following week, special programs include a talk on the science of weather with Michelle Bogowith, a local TV broadcast meteorologist, for all ages.
"So far, we don't have any other adult programs, though they are welcome at the all-ages programs," Lard said. "This one would probably be good for adults even if they don't have kids."
A performance by "Funky Mama" and Science City Smart Robotics also are highlights of June's programs.
In July, special programs include Mad Science Spin, Pop, Boom! and a visit with some live animals from the Kansas City Zoo. The last week of the summer reading program, July 21-25, will be a "Color Week" with special art "camps" for various ages each day thanks to the Bonner Springs Arts Alliance.
The last day to turn in summer reading logs and collect prizes is July 26. Lard thanked the Summer Reading Program sponsors for their support.