Basehor-Linwood graduate named Kansas Scout of the Year runner-up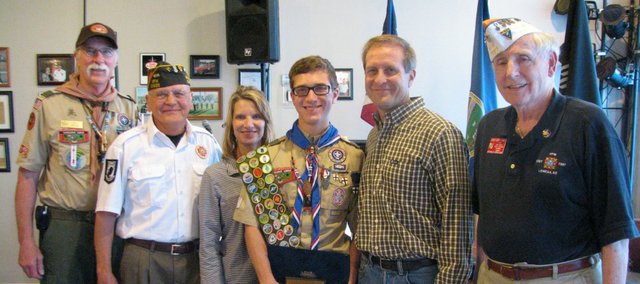 Since the age of seven, Jefferson Storms has been volunteering, working, and advancing in the ranks of the Boy Scouts. The entire time, it's been about helping others. And on Thursday, when he accepted the award for runner-up scout of the year award for Kansas from the state VFW, his years as a scout came out in humble gratitude.
"It means a lot, but I'm really happy for the Basehor VFW to have this here," Storms said. "They do a lot of good for this community, and they deserve it."
The Kansas VFW scouting director Gerald Shirel presented Storms with a plaque and check for $200 for being the state's runner-up. Shirel said that less than 10 percent of the 430 eligible scouts in the state qualified for consideration.
"I am proud to present this award to a very distinguished gentleman," Shirel said at the Basehor VFW Post award presentation.
Storms joined the Boys Scouts at the age of seven and has since risen to eagle scout in Troop 169. His longtime troop leader Bill Brown attended the award ceremony.
"This takes a lot of hard work, it takes a plan and not just rank advancement," Brown said. "It takes leadership and years of projects to even be considered."
Storms' Eagle Scout project, completed about four years ago, was for a Tonganoxie church. Storms said he noticed that the church needed new flag poles, so he led his troop in a plan to dig up the old one and cement-in new poles. Storms was the leader of the project and therefor wasn't supposed to help with the actual execution of the plan. But that didn't stop him.
"We had to take a shovel out of his hand on more than one occasion," Brown said.
Storms' history with the scouts was collected into a quarter-inch stack of documents that he submitted to the state VFW for consideration. He said it was nearly impossible to calculate all of the community service hours and project hours he had put in.
In thanking the VFW for his award, he also thanked his troop and his parents, Roxann and Jeff Storms.
Storms graduated from Basehor-Linwood High School this month and will study secondary education at Kansas State University in the fall.