Basehor's Holy Field Winery holds Lady's Night benefitting Safe Harbor Prison Dogs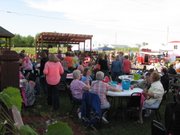 When the Holy Field Winery contacted Safe Harbor Prison Dogs of Lansing to be the beneficiary of their annual Lady's Night, founder Wendy Peterson couldn't believe it.
"It meant a lot because we are such a small rescue group," Peterson said.
Women from around the area attending Holy Field Winery's Lady's Night celebration last Thursday brought bags of toys and treats for the dogs, along with their monetary donations. One woman donated a large trash bag full of new treats.
"You'll make some dogs very happy," Peterson told her.
Safe Harbor Prison Dogs rescues dogs mainly from high-kill animal shelters across the Midwest. The dogs then go to the state prison in Lansing where Safe Harbor has approximately 100 inmates trained to be dog handlers who foster the dogs. The handlers take great pride in their work and work on socialization with the dogs at first, then they work with the dogs on housetraining and leash training, and basic command, Peterson said.
Hundreds of women attended Lady's Night and were able to eat and drink the night away. Many were transported to and from the event in limousines and shuttles. The women were able to buy food from food trucks, shop and listen to live music.
Police were called to the location shortly after 9 p.m. due to a non-injury accident at the intersection of 158th Street and State Avenue where a driver was cited for inattentive driving, according to Police Chief Lloyd Martley.