Basehor, Bonner
VFW

posts continue community outreach amid recruiting struggles and tight budgets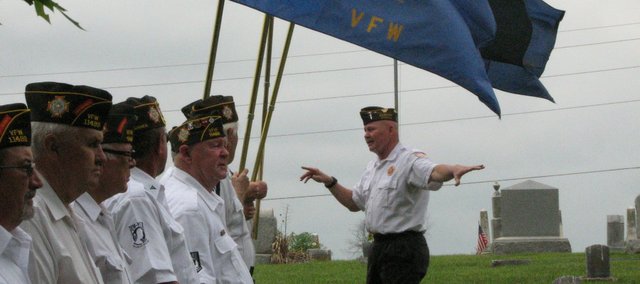 Emily Keck knelt to place a small plastic flower on the headstone of her uncle Michael Jason Keck on Memorial Day, while the Basehor VFW raised the American flag in Glenwood Cemetery in Basehor.
"We do this more than once per year, but it's extra special today," Emily Keck said.
Michael Jason Keck, who died in 2010, was a member of the National Guard. The family makes sure to keep flowers at his grave site throughout the year. Emily Keck said Memorial Day is a special day to remember her uncle and his sacrifice because of the annual presentation by the Basehor VFW Post 11499.
"It means a lot to hear the taps being played because not every cemetery has that," Keck said.
The Basehor VFW presented the colors, performed a 21-gun salute and remembered the veterans and those who died in military service with the traditional playing of the Taps. The tradition is one that the VFW, like many others, performs throughout the year. But, also like many other VFWs, the Basehor VFW is always looking for new ways to recruit and raise money because of tight budgets and an aging population of members.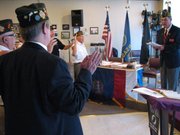 From Memorial Day to Veterans Day, the local VFWs can be seen presenting colors and participating in almost every local event. The members of the Basehor post hold twice-monthly bingo nights to raise money and entertain locals, and they make appearances at the local schools to talk about the history of the wars they were involved in. They present colors at school ceremonies such as graduation and the homecoming and Fourth of July parades. The post has even recently collaborated with the Basehor Community Library to host town meetings with local legislators.
But recently, the Basehor VFW Post 11499 has had to cancel its monthly $7 community breakfast because of a lack of attendance from community members. The post, according to Post Commander Phil Jenkins, is mostly living off its savings from periodic auctions. In addition to the yearly efforts to find additional funding, the post's membership isn't growing.
In Basehor, the effort to recruit younger vets returning from Iraq or Afghanistan has seen just one new member, the son of Post Quartermaster Dan Stuekemann.
"We've got to do something about that," Jenkins said. "The VFW still has the perception of being a bunch of old goats who sit around and drink, but nothing could be further from the truth in regards to our post."
Five years ago, national VFW membership stood at about 1.6 million, but today the number has dropped to 1.4 million, according to numbers from the VFW National Headquarters. The current number of members in the state of Kansas is just over 23,000. Nationally, about 15 percent of veterans from Operation Iraqi Freedom and Operation Enduring Freedom who are eligible to join the VFW have done so. Compared to years past, that number is higher than it has ever been, explained Rick Butler, the VFW department director of membership at the Kansas City headquarters.
"We're actually, percentage-wise, doing better than we've ever done," Butler said. "But younger vets sometimes don't know what we can offer them."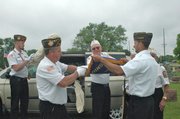 Bonner Springs VFW Post 6401 has had some success in recruiting "younger" members. The post's current commander, Lt. Col. James Holley, is one of those, having served during Operation Desert Storm.
Holley joined the post 10 years ago because his son was a winner of a VFW Voice of Democracy essay contest. This is exactly how he said Post 6401 has been able to attract some new members in recent years: by being involved in the community.
"One of the ways we help attract some of our younger veterans is just through exposure," he said. "… Just through exposure and seeing us out in the community, we will see veterans and talk with them, and sure enough they'll be Iraq or Afghanistan veterans and we'll get them involved."
Holley said they have noticed some younger veterans hesitant to get involved, saying there is a "stigma" that the VFW is more for the older generation and the American Legion is more for the younger generation.
"So we're trying to dispel that myth and show that we're just as involved in the community service activities as the American Legion and get them involved," Holley said. "And the main thing is make them aware of their veterans' rights and benefits and help them as they transition into a civilian environment from being on active duty, helping them whenever they need."
For Ed Bush, a longtime member of the Basehor VFW, the post offers him and others a sense of camaraderie and a community of support.
"If one of us wants to talk about a certain issue, we're here for them," Bush said.
In both Basehor and Bonner Springs, members spoke of a "disconnect" between younger vets and the older Vietnam veterans. That disconnect is commonplace, Butler said, because of the age difference. About 90 percent of the members of the Basehor post are Vietnam veterans.
"If you're a 25- to 35-year-old vet, chances are you're raising a family and doing other things," Butler said. "So, we have to change with them, just like any business would, to be able to attract them."
Butler said about half the 40 members of the Kansas City, Mo., VFW post are younger than 30. Butler said they have been successful in that age group because they have begun programs like offering a free gym and day care for vets with kids. Other ideas that have been used include sponsoring golf or softball tournaments, Butler said.
Two of Post 6401's younger members are the sons of longtime member and former post commander Jim Jenkins. Seth Jenkins, 27, served six years in the Air Force, including time stationed in the United Arab Emirates, flying missions into both Afghanistan and Iraq. John Jenkins, Seth's younger brother, is still in the service in South Korea, previously serving in Afghanistan.
But another younger member is Jesse Caplinger of Kansas City, Kan., who joined immediately after returning from his first tour in Iraq at Fort McCoy in Wisconsin.
"The VFW set up a table on the base, and they were just selling memberships, so I figured I might as well join now and do a lifetime membership," he said.
But he first spent some time back in college courses at Kansas State University, so he didn't get involved until he got married and moved to the Legends area. He said he liked the Bonner VFW Post because it was so active.
"I was a member of the Manhattan VFW, but they weren't very active in community service — it was mostly just a social club," Caplinger said. "This one is all community service, which I enjoy doing. I think it's beneficial for the community, getting awareness out of all the vets, especially since we're right next to Leavenworth."
Caplinger said he doesn't think veterans of Iraq and Afghanistan necessarily feel that the VFW doesn't have any thing to offer them.
"I think it's just that the younger ones are more involved in their personal lives and they haven't gotten to that point where they feel the need to get involved with the VFW," he said. "… I think probably in 10 or 15 years, you'll see a lot more of my generation join the VFW. Right now, they're just trying to get back involved in civilian life."
Butler said the VFW also has something to offer young veterans who may be dealing with post traumatic stress disorder or other challenges with their return home. He said the camaraderie within members of the VFW mimics that of the armed forces and provides a comfortable environment for returning soldiers to interact.
"I think they can use the VFW more as a lifeline than ever before," Butler said.