Smith leaves state track with three medals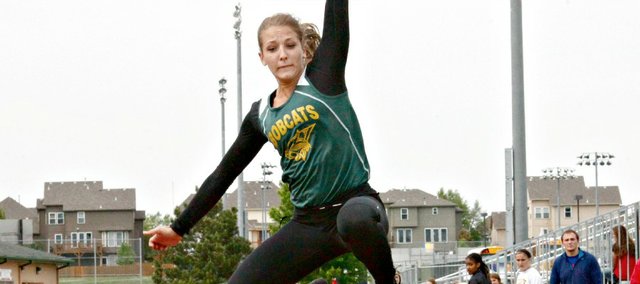 In her previous two state track and field appearances, Basehor-Linwood's Sierra Smith left Cessna Stadium empty handed. The Bobcat junior returned over the weekend, and her third trip resulted in plenty of hardware.
Smith earned two individual medals helped win another in relay competition Friday and Saturday at the Class 4A meet at Wichita State University.
Smith opened competition Friday, finishing eighth in her debut in the long jump with a distance of 15 feet, 7.25 inches. She then combined with teammates Katelyn Hickman, Katey Trower and Marriah Clayton to secure a spot in the finals of the 4x100-meter relay, finishing eighth in 51.3 seconds — just one-tenth of a second faster than ninth-place Concordia. Smith had missed the state finals on BLHS 4x100 teams in each of the last two years, coming in ninth in 2012 and 14th in 2013.
The relay team added .12 seconds to its time in Saturday's final, coming in eighth place. Smith also added another individual medal to her resume, taking fourth in the triple jump (35-1.25) — a significant improvement from her 10th-place state finish a year ago.
"When you have kids going into it that already have experience being there, you have higher expectations," BLHS coach Scott Russell said. "You hope they'll do what it takes to be on the podium, and Sierra really fulfilled her role for the team. She did a spectacular job."
Junior Marriah Clayton nearly joined Smith as an individual medalist, falling one spot short of the finals in the 100-meter dash. She finished ninth in prelims (13.07), coming in just .05 seconds behind Buhler's Alexandra Keller. Fellow junior Quinnlyn Walcott added a ninth-place finish in the 3,200-meter run (12:04), but missed the awards podium by more than 10 seconds. She also took 14th in the 1,600-meter run (5:47.6). She also teamed up with sophomores Jaime Weible and Ryann Smith and senior Rebecca Carroll to take 13th in the 4x800-meter relay (10:22.27).
Juniors Cassandra Beattie and Katey Trower were the Bobcats' only other individual competitors. Beattie took 15th in the 100-meter hurdles (18.03), while Trower came in 14th in the shot put (34-5.5).
After getting shut out at last year's state meet, the Bobcat girls finished 28th with seven points. Baldwin won the team title with a score of 71. With all state qualifiers except Carroll returning next season, Russell said he expects more athletes to contend for state medals in 2015.
"Truthfully, the first time being in any major event can easily overwhelm you," he said. "As kids see some of our own kids medaling, they get a little bit of a taste of what it feels like. For some of these kids, (next season) could be their fourth time at state. It will allow them to relax a little bit more."
The boys only state action took place in Saturday's 4x800 relay. Tanner Tavis, Garrett Cook, Mark Vitt and Sean Potter teamed up to take 14th (8:45.39). Cook, a sophomore, is the only returning runner next season.