Basehor Community Library putting 'Fizz, Boom' into summer programs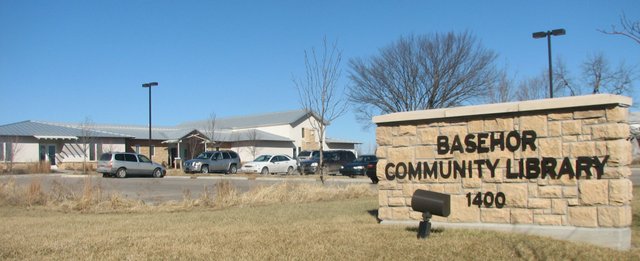 Basehor — The Basehor Community Library is making summer for kids, teens and adults anything but boring.
Sign up began last week for the Summer reading program at the library and each program kicks off this week. From weekly prizes to weekly special events, the library is jam-packing the June and July schedule.
"It's going to be a blowout," exclaimed Children's Services Director Vickey Long. "We're so excited."
The reading program included reading challenges for every age group along with a science themed series of special events called "Fizz, Boom, Read." To promote the reading program, Long and other library employees dressed as mad scientists with white wigs and spoke to each school int he Basehor-Linwood district to let kids know about the happenings this summer.
On Tuesday, the program begins with a mad scientist kick off party for kids in grades 7-12. At 4 p.m. Wednesday, the library hosts a slew of Star Wars characters and will have an authentic caricaturist on site to draw local youth as their favorite Star Wars character. Free hot dogs will also be provided to the first 300 attendants.
Then, every week throughout the summer will have a special event for kids to come experiment with different areas of science. Long said the subjects include the science of magic, the science of flight (where kids will build water rockets), the science of sounds (where kids will make music) and the science of food.
"I think the hands on stuff is so much fun and we're doing a lot more of it this summer," Long said.
The reading challenge for kids aged from birth to two-years old is for parents to read a book to them everyday. By doing so, the kids are entered in a weekly prize drawing.
Prizes for all ages range from gift cards to Kansas City Royals tickets and an iPod.
For kids aged 3-11, Long said they are asked to simply read everyday. They do not have to log how many books or how many hours they read. Reding begins June 2 and kids can sign up through the month of June.
"We just ask them to read everyday," Long said.
Again, by doing so, the kids are entered to win weekly prizes if they are members of the summer reading program. Last year, Long said more than half of the kids participating in the reading program read everyday for the eight week program. Long said that the weekly prized and events keep the kids engaged.
"It gets the kids coming in every week," Long said.
Teens from the 7th grade to recent graduates of high school are invited to participate in their reading program in which they log how many minutes they read each day. Teen Services Director Amy Schaffer said every 20 minutes the teens read, they'll be awarded one library dollar. At the end of the eight-week program, prizes will be auctioned using the library dollars the teens have collected. Schaffer said teens can read comic books, magazines or books to achieve their goals.
"They're not being told what to read, they can read whatever makes them happy," Schaffer said.
On July 22, along with other excursions, adults can take a trip to Union Station in Kansas City, Mo., to see the King Tut exhibit for $25.
To register for any of the summer reading programs, visit basehorlibrary.org or call (913)-724-2828.