Basehor
VFW

earns top state honor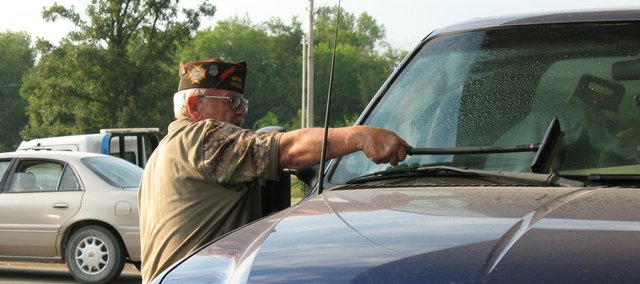 Basehor VFW Post 11499 has earned an important statewide honor for the past year — and at a time when the requirements to earn the honor have become more stringent.
The post was named an All-State Post for 2013-14 for its community service work, its 80 post members raising and donating a total of $5,700 and working 580 volunteers hours in 113 total projects from April 2013 to April 2014. Of 150 VFW posts in the state, only nine posts earned the honor.
"I was so proud for the active members of our post as we all worked hard to achieve this honor," Phil Jenkins, post commander, said.
Additionally, the post's former quartermaster, Dan Stueckemann, was voted to be District 1 Commander for the 2014-15 year.
This area is already known for its active VFW posts — Bonner Springs's VFW Post 6401 has won All-State honors 11 times, and Jenkins said he thought Basehor's post had earned the All-State designation at least one other time since it was chartered in 1995.
But this year's honor is a bit more distinctive for the Basehor VFW post due to some new, tougher requirements to qualify the post for consideration of the honor.
VFW posts perform projects in four categories: Veteran's service, legislative action, community service and youth development.
To qualify in the past, a post had to have four projects in each category, just 16 total, compared to the 10 projects in each categories, or 40 total, required this year.
Steve McCown, junior vice commander for the post, is in charge of logging the post's community service and turning it in to the state VFW, and he admitted that his organizational efforts in the past three years may have helped the post earn the honor this year.
"There have been record books … a whole lot less formal, less computerized, just basic effort to record community service by past groups of vets," he said. "(This year's) book on its general form and function had a lot to do with it."
In addition to activities the post performs annually, like hosting the Patriot Pen and Voice of Democracy essay contests and participating in community parades and other events, the post had a few unique service activities in their log.
Among the notable projects was partnering with Boy Scout Troop 169 to perform two flag retirement ceremonies, a new activity for the post. There was also the fundraiser for twins Blake and Lance Tranckino, who needed reconstructive brain surgery.
McCown said hosting the group of World War II 71st Infantry Division Reunion that traveled through town was another unique activity.
"It was several hours of really good camaraderie with the 71st members," McCown said.
And the Post members aren't resting on their laurels now that they have earned the honor. Just Friday, six members met at the Casey's General Store gas station in Basehor and washed customers' car windows for donations to the Muscular Dystrophy Association. After working about three and a half hours, they had gathered $416 in donations.