Bobcats open season with win in
OT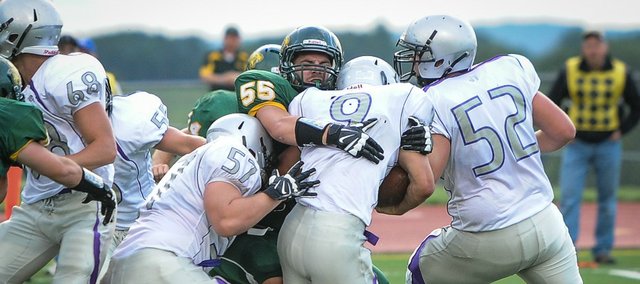 It didn't take long for the Basehor-Linwood High football team to create some drama in 2014.
The Rod Stallbaumer era got off to a thrilling start Friday, as BLHS eked out a 20-17 win against Baldwin in overtime.
The Bobcats (1-0) trailed 14-6 early in the fourth quarter, but Justin Phillips scored on a 21-yard touchdown run with about five minutes to go, then hit Patrick Muldoon for the two-point conversion to force a tie. Baldwin (0-1) failed to score on the ensuing possession, and BLHS ran out the clock to force overtime.
Baldwin started the overtime period on offense and took a 17-14 lead on a Matt Michels field goal. The Bobcats drove inside the BLHS 10 on their try, and Phillips gave BLHS the victory with a seven-yard scoring run. The sophomore quarterback rolled to his right, broke a tackle in the backfield and broke down the sideline before diving into the corner of the end zone.
"I am very proud of the guys effort and resiliency," Stallbaumer said. "There were several times when they could have ducked their heads and gotten down but every time something negative happened they kept fighting and found a way to win."
After a scoreless first half, Baldwin struck first on a two-yard run by Tiler Garcia with time running out in the third quarter. BLHS didn't need long to answer, as Austin Ettinger scored from 23 yards out just two plays later.
Baldwin's Joel Katzer scored on a one-yard run and ran in the two-point conversion midway through the fourth quarter, setting up Phillips' late-game heroics.
Ettinger led the Bobcats' rushing attack with 51 yards on 13 carries, while Jahron McPherson added 36 yards on nine carries. Phillips was 13-of-20 passing for 95 yards, while adding 34 yards on the ground. He was intercepted twice in his debut under center. Jackson Brimblecom was Phillips' favorite target, hauling in a team-high four passes for 26 yards, but six Bobcats recorded at least one catch in the contest.
Defensively, McPherson led the way with 12 tackles, including one for negative yardage. Tyler Kendrick added a sack, while Eric Scott intercepted a pass.
"Coach (Brian) Lohafer, coach (Ross) Schwisow and coach (DeAngelo) Brooks did a great job with the defense all night," Stallbaumer said. "The defense was able to keep us in the game long enough for our offense to make some plays in the second half."
With the win, BLHS started the season 1-0 for the seventh consecutive year.
The Bobcats will open their Kaw Valley League schedule at 7 p.m., Friday at Class 5A Lansing. The Lions came up short in a 20-14 loss last week against Piper. They won last year's meeting with the Bobcats, 34-8, but BLHS is has taken four of the last five meetings in the series.
LHS senior quarterback Krystian Abbott is one of just two KVL signal callers to return after starting last season. He threw for a league-best 2,759 yards and 24 touchdowns in 2013.
"We will need to refocus now and continue to improve," Stallbaumer said. "We play a very good Lansing team this week. They are a very different team than Baldwin. They have a lot of playmakers on both sides of the ball and will present us with a lot of challenges.
"I felt like (last week) was very much a team win against Baldwin and we will need the same kind of effort again this week."
Score by quarters
BHS 0 0 6 8 3 — 17
BLHS 0 0 6 8 6 — 20
Third quarter
BHS — Tiler Garcia 2 run (conversion failed)
BLHS — Austin Ettinger 23 run (conversion failed)
Fourth quarter
BHS — Joel Katzer 1 run (Katzer run)
BLHS — Justin Phillips 21 run (Patrick Muldoon pass from Phillips)
Overtime
BHS — Matt Michels field goal
BLHS — Phillips 7 run (conversion N/A)
Rushing
BLHS: Austin Ettinger 13-51, Jahron McPherson 9-36, Justin Phillips 11-34, Ryder Reed 3-16, Chas Rollo 3-10, Chase Unruh 2-8, Eric Scott 1-(-3).
Passing
BLHS: Justin Phillips 13-20-2 95, Jahron McPherson 0-1-0 0.
Receiving
BLHS: Jackson Brimblecom 4-26, Ryder Reed 3-21, Patrick Muldoon 2-28, Boston Henry 2-14, Jahron McPherson 1-6, Chas Rollo 1-0.