Bonner car dealer's rapid growth leads to new Edwardsville building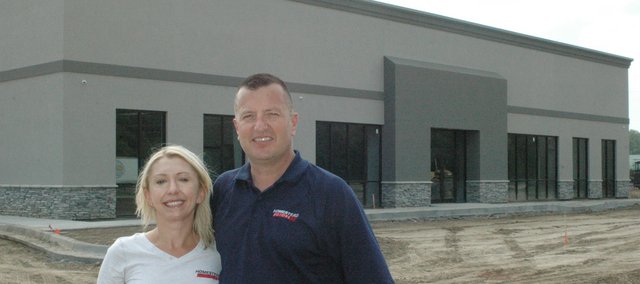 A Bonner Springs business was founded to create a customer-friendly means of selling cars — and it has been so successful, it's about to expand into Edwardsville.
"It's fun; it's so much fun," says Mike Reid, co-owner of Homestead Motors, 11540 Kaw Dr. "It's different than anywhere I've ever been because I can actually do it the way that customers want to buy cars."
Homestead Motors will officially increase its space tenfold on Sept. 20 when it holds a grand opening celebration at its new location just a block or so down the road at 11401 Kaw Dr. in Edwardsville. Reid said he hopes the new space will help the business reach its goal of becoming the number one independent used car dealership in the greater Kansas City area.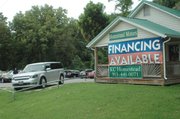 Reid and his wife, Sandra, opened Homestead two years and two months ago, when Reid decided "the pain has finally exceeded the gain" after 21 years working for new car dealers.
"I basically got fed up with the way that car dealers do business and treat customers," he said. "I made it to the top, as high as I could go without being an owner. And I love the car business, love selling cars, but dislike the process that dealers put consumers through. It's just ridiculous."
Homestead's business model is very simple, Reid said: sell high-quality cars and be customer friendly.
Reid said most Homestead cars are one-owner, off-lease vehicles, which have been better maintained because leasers are required to service them frequently, and of course have a clean vehicle history report.
Every vehicle goes through a 127-point inspection after Homestead performs hours of research online to make sure it is clean. The Reids say if Sandra makes a list of about 50 cars that seem clean, Mike will go see them in person and often finds only 10 of them are good enough for Homestead's lot.
"It's amazing; you can eliminate so many vehicles just because of condition, and they don't meet our standards," Mike said.
Being customer friendly starts with putting all of the dealership's cars on their website with full disclosure — and that means every little tidbit of information they can provide.
"Consumers do 90 percent of their shopping now from the internet, and why dealers don't put all the information on there is beyond me," Mike said.
All pricing is listed online as well, and Mike Reid said vehicles are very competitively priced compared to the market: about $2,000 less on average than the competition.
"So we don't play the games. We don't mark our cars up two and three-thousand dollars and you come to the lot, and then we say, 'Well if I could save you $1,000, would you buy it today?'" he said. "We don't do that, we just put it out there, and we've been very successful."
The 850-square-foot house that serves as the current location's office inspired the name.
"Someone said, 'Well this feels homey; it's like a homestead,'" Sandra said.
It also tied into the Reid's side business, selling Amish-built sheds out of El Dorado, Mo.
While K-32 may seem a bit out-of-the way for a car dealership, it hasn't hindered Homestead.
"Fortunately it doesn't matter where your location is if you carry good cars, if you have good pricing and good processes and it's easy for consumers to buy from you, they'll go where they're going to get the best deal and best value for the money," Mike said.
The Reids chose the location because they were familiar with the area — Sandra grew up in Edwardsville — and they now live in western Shawnee.
Mike said they also liked the small-town atmosphere, which was beneficial when they needed Bonner Springs and Edwardsville to form an agreement for Homestead to use Bonner's water utilities in the new Edwardsville location.
"The people in this community are awesome; the cities, both Bonner Springs and Edwardsville, are easy to work with and they seem to be very pro-business," Reid said.
Which was good, because the Reids actually purchased the three acres for their new building just about six months after they opened, knowing they'd need to expand.
"When first opened, we thought that it was just going to be Sandra and I, and maybe sell 15 cars a month," Mike said. "It expanded very quickly, and we grew our sales to 20, 25, 30, now 35 cars a month in that location, and we can only hold 45 vehicles in inventory on that lot."
Another indication of their success is the number of referral and repeat customers they have. Mike Reid said in the car business, if 25 percent of your business is referrals, you're doing really well.
"On average, our referrals and repeat business is running in the 40 percent range, almost double what the industry average is, and that's why we're growing so fast," he said.
The new location will allow 110 vehicles in the front, and it will include 8,800 square feet, with a full service automotive and detail shop. Homestead will have 10-12 new employees, and Mike said they will maintain the Bonner Springs site for older vehicles.
And there is room to grow.
"Once we get to selling 100 cars a month, we're going to build another service facility behind our existing facility," he said.
A ribbon cutting for the new building with t he Bonner Springs-Edwardsville Chamber of Commerce is set for 10 a.m. Sept. 19. The business then will celebrate its grand opening 1-5 p.m. Sept. 20. Local Christiand band Glory Road will perform, and face painting and cotton candy will be available for children. Lunch will be provided with free give-aways and a grand prize raffle for an iPad.