Ideal weather expected for Saturday's Basehor Car Show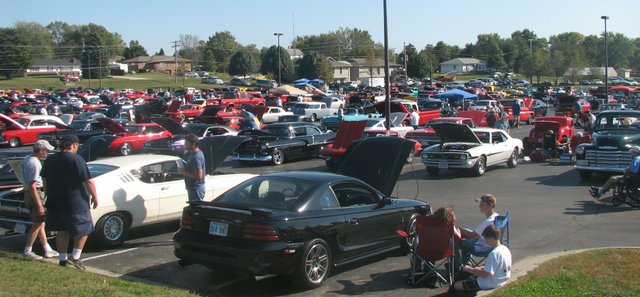 Anyone wanting to get nostalgic about a hot rod they had in high school or yearning to see a classic car up close should pay a weekend visit to Basehor-Linwood High School.
The 17th annual Basehor Car Show will start with registration from 8 a.m.-noon Saturday at the high school parking lot, 2108 N. 155th St. in Basehor.
Organizers will hand out nearly 20 awards a the show: chairman's choice, best of show car, truck and motorcycle categories, best paint, best engine, best interior and top choices for the superintendent, principals, teachers, mayor, VFW, ladies, senior, junior, sophomore and freshman classes and club participation.
Josh and Chuck Magaha will provide DJ music, while door prizes will be given out and raffle items drawn. There also will be a 50/50 raffle in which people can purchase tickets to win half of the total money raised from the monetary raffle.
The event has been a popular one with car and truck enthusiasts.
Tammie Smith, who is heading Project Grad parent efforts for this year's show, said organizers are expecting 350 to 400 vehicles for this year's show.
The rain date will be Sunday, which organizers unfortunately had to use last year. But Smith said that shouldn't be the case this year.
"We are looking forward to the nice weather, especially after last year having to reschedule," Smith said. "We invite everyone to enjoy the sunshine and look at some really nice cars."
Volunteers will be serving lunch at the event, which is one of the main Project Grad fundraisers for the year.
"This is the biggest one," Smith said about the car show. "This is our main source of funding for Project Grad."
Project Grad is a nonprofit organization that raises money each year to provide a safe environment for the senior class to celebrate graduation each May.
Vendors also will be selling items at Saturday's show and a silent auction will run from 8 a.m.-3 p.m. Some large silent auction items include an afghan and a $500 gift certificate to Roth Orthodontics.
Vehicle owners can pre-register or handle registration Saturday, but vehicles must be in their spots by noon.
Awards will be announced about 3:30 p.m.
Smith said vehicle entries have come from as far away as Lee's Summit, Mo., and Topeka.
For more information about the show, go to basehorcarshow.com.