Generating change: Ag Hall looks to reinfuse energy with Barnyard Babies event
Center marks 50 years with plans for improvement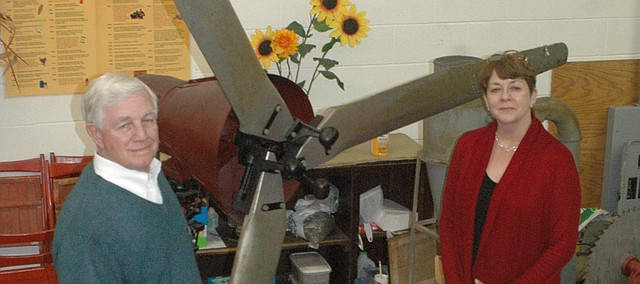 Spring is the time of renewal, and this year, that means even more for the National Agricultural Center and Hall of Fame.
"This is the beginning of the return of the Ag Hall of Fame," said Clausie Smith, president of the Ag Hall's board of directors.
The Ag Hall's Barnyard Babies event, set from 10 a.m. to 2 p.m. April 18, not only will celebrate Spring and new life on the farm — it will mark the 50th anniversary of the Ag Hall, and as Smith said, the beginning of a new life for the venue, 630 N. 126th St., Bonner Springs.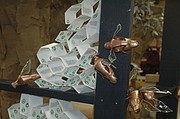 The center has survived a few very uncertain years — last year, as it worked to reconcile some lingering debts, the museum did not open for regular hours to give tours to the public, though it did still rent out its facilities and had several of its annual special events. But with new director Dawn Gabel, the Ag Hall has new life, facts that will be evident with special events at this year's Barnyard Babies.
"The fact that Dawn has come aboard has given us new life, new enthusiasm, and she started as a ball of fire," Smith said. "I'm not sure she knew she'd have to hit the ground running, but she was sprinting. She has done a tremendous job and we're very fortunate to have her."
Events this year will begin with an 8:30 a.m. reception and 9 a.m. program to mark the Ag Hall's Golden Anniversary, with remarks from local officials and the ribbon cutting and dedication of the "Leave a Better World" sculpture, constructed with recycled materials and donated by Bayer CropScience, in the Museum of Farming.
Then doors will open to the public for Barnyard Babies, with baby farm animals, hands-on activities, hayrides, living history, free train rides, crafts, face painting and more.
The Ag Hall will then be open to the public five days a week for tours. And with plans for museum improvements, two Hall of Fame inductions, and creating more partnerships, the Ag Hall's 50th year should be significant.
"I think we will be turning the first of many small corners this summer," Smith said.
Part of bringing the Ag Hall back to life was re-establishing its importance with those in the world of farming, and Gabel said a big part of her job since she was hired at the end of last year has been establishing partnerships to give the museum more support.
"We have some wonderful plans and thoughts of what we would like to make the center be for the future of Bonner Springs and Wyandotte County and the nation, because we are the National Agricultural Center," Gabel said. "So we're making alliances every week. All I have to do it seems is reach out and people reach back."
One of those alliances has been with Bayer CropScience, which not only donated the sculpture that will debut at Barnyard Babies. Bayer also offers a program where it volunteers its maintenance department for nonprofits, which has been helping the Ag Hall prepare its facilities for the opening day.
"Right now, with the maintenance department being as skilled as they are, they are a huge part of getting us presentable for the 18th," Gabel said.
In addition to partnerships, the Ag Hall has been looking at improving its use of museum pieces.
"We have an amazing quantity of artifacts, and we will be doing a better job of telling the story of these artifacts," Gabel said. "We've always had these, now we're going to tell the story of what makes them special and interesting for today."
For example, to complement the Leave a Better World sculpture, the museum is creating an exhibit about sustainable farming practices using wind, water and soil, featuring museum artifacts including a 1920s wind generator.
Gabel said she plans to have some sort of new exhibit or demonstration to debut at each of the Ag Hall's major annual events this year.
Rallying volunteers also has been a big part of preparing the Ag Hall for the future. This Saturday, to mark Earth Day and Kiwanis Club International's Day of Service, the Ag Hall will have a volunteer work day, with members of two local Kiwanis Clubs, Boy Scouts, high school Key Clubs and more helping prepare the Ag Hall for Aug. 18.
The Wyandotte County Extension Office also have been working with Delaware Ridge Elementary students to put in a pollinating garden, while the BSHS/CMS Drama Club plans to lead a story-telling activity at Barnyard Babies.
"So we're getting a great deal of volunteer activity," Smith said.
But they need more — Gabel said as she and two other part-time workers remain the Ag Hall's only employees, being open five days per week will require volunteers.
"We have volunteers; we need more volunteers," Gabel said. "If you can volunteer two hours at the desk, or if you can volunteer one day a week, we'll take whatever anyone can give."
Gabel added that though this year's Barnyard Babies will include a few more activities than usual, she envisions even more growth in the future and wants to get more youth groups, like 4-H and Future Farmers of America clubs, involved.
"It has always been a celebration of spring and birth on the farm and youth in farming," she said. "But we want to grow that; we want it to be a true annual celebration of youth in farming ... I look for next year to be bigger and the next year to be even bigger."
Tickets for Barnyard Babies can be purchased at the gate. With every adult ticket of $5, one child enters free. All other children aged 3 to 16 are $4 each; children under 2 are free.