Backyard Beauty: Basehor area resident turns yard into wildlife habitat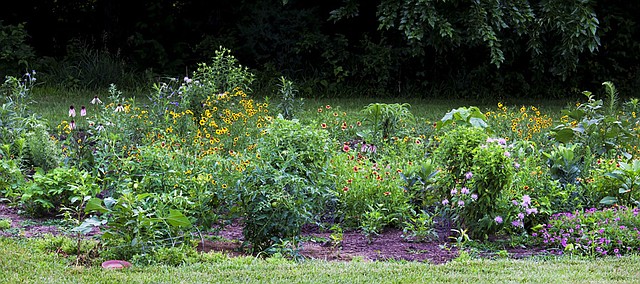 Native wildlife have found a safe haven in rural Basehor — not in an open field or nature preserve, but in Wayne Rhodus's back yard.
Rhodus, an amateur nature photographer, has gotten his backyard certified by the National Wildlife Federation as a Backyard Wildlife Habitat and more recently, as a Bird Friendly Habitat. He said the key has been providing the right kinds of flora to attract the fauna.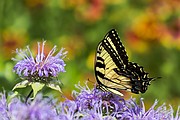 "Our yards these days all have kind of the same look, with the Bradford Pears and other trees and plants," Rhodus said. "But really those aren't good trees, other than looking nice; they don't provide a food source for native insects."
He recently discussed his yard's transformation in a program at the Basehor Community Library, bringing out 50 patrons to learn about creating a butterfly and bird-friendly habitat in their own yards with the use of native plants.
"They're every bit as pretty, and you can arrange them in a way that is aesthetically pleasing," Rhodus said. "Then we can invite insects to the yard, which the birds, in turn, need."
Rhodus, a Kansas City, Kan., native, moved to a development just southwest of Basehor 23 years ago. He said that growing up, he learned to appreciate the great outdoors on his grandparents' farm in central Nebraska, and from his mother, who was a big gardener herself.
"I didn't really pay that much attention (to her gardening), but it must have rubbed off on me," Rhodus joked.
His decision to improve his yard was related to his photography. Rhodus began getting into the hobby shortly after his eldest children graduated from Basehor-Linwood High School in 1998 and 1999. He said he needed something beyond his full time job, working in sales and marketing for his brother's company.
"Photography is really kind of a tool to help get me out, because we're so busy in our lives," he said. "Because I enjoy it, it helps me to get out to central Kansas or get out in the backyard to photograph birds. It's a good motivator."
But at first, he focused on landscapes that he found during the annual trips he takes with his wife to various U.S. locations, from Maine to the San Juan Islands in Washington State.
But with a full-time job, he needed to find subjects that were a little more local. He found "smaller-scale landscapes" around the metro area, but he still wanted something closer to home.
"About five years ago, I just decided I had a lot of birds coming to the yard, so I started to photograph the birds," he said. "It's a completely different challenge… birds and butterflies, they don't sit still, so it's a completely different thing. I kind of enjoyed that challenge and discipline for wildlife."
Rhodus wanted to attract more wildlife to his yard, so he discovered he could get his yard certified as a backyard wildlife habitat — and he happened to have unintentionally made a good start with the landscaping already in his yard, with a diverse array of trees, including a pre-existing hedgerow of crab-apple trees.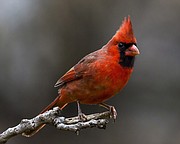 "So I thought, well, I enjoy nature photography; I want to give back," he said.
With the help of a friend who owns an ecological consulting business, he created a native plant garden in 2013 to help native pollinating insects, particularly after learning that the Monarch butterfly population had dropped 90 percent due in large part to a lack of native plants like milkweed.
The garden is 2,400 square feet with 40 to 50 different species of native wildflowers like rose verbena. Now his native plant garden is certified by Monarch Watch as a monarch way station, and it is listed on the Monarch Joint Venture website.
"I was amazed on the number of insects that showed up even in the first year," Rhodus said.
A year ago, when the bird-friendly habitat certification was created, he made sure he met those requirements, as well.
"Neither my wife or I are gardeners, we don't have any training," he said. "… It just turned out that, without really any grand design, we had created a really good environment for attracting birds."
He already had installed an ornamental pond, which he expanded to include a stream to another pond to keep the water moving even in the winter, creating a good year-round water source for birds.
"They know it's here, and they know they can always get to it," Rhodus said. "I've seen as many as 20 robins waiting in line to take a bath in that stream."
The biggest obstacle was that he could not use insecticides.
"Baby chicks are exclusively fed insects; they don't eat seeds," he said. "So if you use insecticides in your yard, you're killing a lot of the food source."
Rhodus's nature photos will be on exhibit at the Basehor Community Library through May, the majority taken in his own yard. His photos also can be found at rhodusphotography.com.