Senior Center volunteers tutor Bonner second graders in reading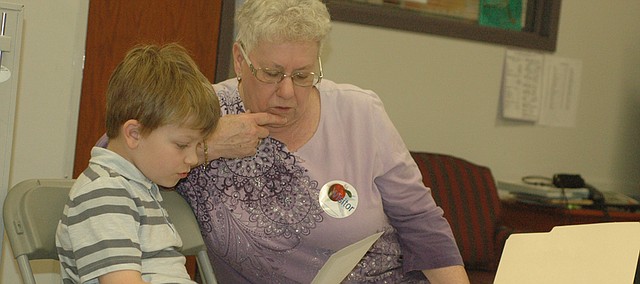 Nancy McGowan leans in as the second-grade student she is tutoring begins to read.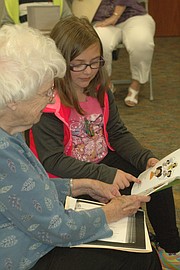 He stumbles over the word "thimble" — saying "thumble" instead — but with a gentle correction from McGowan, he continues on. When he's done, she holds up her hand.
"High five," she says. "Have a good day!"
McGowan is one of about a dozen members of the Bonner Springs Senior Center who have been spending an hour with Bonner Springs Elementary second-grade students each Tuesday morning for the past two and a half months. The seniors have been tutoring the students as they learn to read aloud with inflection and emotion.
McGowan says she was eager to volunteer as a tutor because she has been helping take care of her youngest grandson since he was 2 years old, and now at 9, he reads at a 10th-grade level.
"I know how important reading is for kids; I just thought a lot of kids need help with reading," she said.
Gloria Ochoa, director of the senior center, said second-grade teachers Gretchen Peirsol and Sarah Thompson approached her about having seniors help their students practice reading once a week from February through early May, and the 12 seniors who volunteered have been mostly faithful to attending the tutoring sessions each week.
Peirsol said she and Thompson were looking for a way to give their students more time to practice reading one on one.
"With 20 students in a class it can be difficult to have that time with just one teacher," Peirsol said. "We have had community helpers in the past, but this is the first time we have worked with the Senior Center."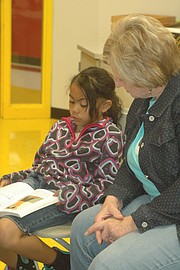 Jackie Lee, a former teacher, said she didn't hesitate when Ochoa told the seniors of the volunteer opportunity. She was happy that the teachers set up the tutoring sessions so that, for the most part, the senior volunteers work with the same three or four students each week.
"Since I'm with the same students every week, we can talk about what they're looking forward to and what they've accomplished," she said.
She said she can tell that the senior center members' help has been making a difference in the students' ability to read aloud with inflection and emotion after just two months.
"I can see several of them that have really picked up on that," Lee said.
The teachers say they have noticed a difference, as well.
"It has been wonderful to see how excited the students are to work with the ladies from the Senior Center," Peirsol said. "The one-on-one attention has helped the students improve their reading fluency and confidence in reading."