Basehor business owner combines love of billiards, country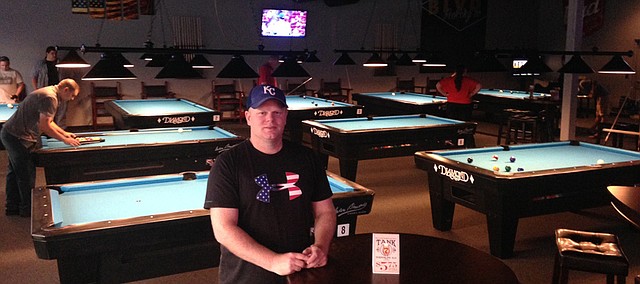 If any business has cause to give itself a patriotic name, it's Stars and Stripes Billiards in Basehor.
Owner Kyle Hampton's family epitomizes service to community and country: his father was a police officer, his mother was a firefighter, his stepfather is retired Air Force, and he and his twin brother also were in the military. Hampton was completing his decommission after 14 years of service this week.
So when it came to naming his business, it was easy.
"I wanted something that tied into my love of my country and my love of playing pool," he said.
Stars and Stripes, 15518 Pinehurst Drive, opened on Friday after a slight delay — waiting for the nine Diamond-brand pool tables to be delivered. But it was worth the wait, because Hampton says the tables are known to be the best of the best.
The business also has shuffleboard and darts, and Hampton says it will be home to pool and dart leagues and tournaments. The several wall-mounted televisions will offer the NFL ticket for Saturday and Sunday games.
Because of that, the business's hours currently are noon to 2 a.m. on weekdays, but it will open earlier, at 10:30 a.m., on Saturday and Sunday for football games. Hampton said he also hopes to work with local restaurants to provide food and already is offering items from Basehor-based Signature Sausage Company.
Hampton started playing pool at 14, and while he didn't have the drive to choose playing professionally over entering the military, he said he got the idea to start his own pool hall early on.
"It was always my plan when I got out of the military," he said. "About five years ago, I started to contact places that were successful, see what worked for them and show them my business plan."
With much of his family living in Leavenworth County, he started looking at potential locations in June 2014 and found the Basehor space just off State Avenue and 155th Street to be the best option.
"I wanted it to be kind of centrally located to where people could drive from all around, from Leavenworth and Lansing or Tonganoxie, but people from Kansas City also could get here easily," he said.
Hampton said one thing he didn't want was for Stars and Stripes to look like a stereotypical, dingy pool hall, so he hopes to maintain a clean and classy atmosphere.
"I wanted to make it nice; I want it to be a place where pool players can feel at home but also where anyone else can enjoy it," he said. "For the first weekend, it's been well-received — everyone wasn't expecting it to be this nice."
The business can be found online at Facebook.com/STARS-Stripes-Billiards.