Boys Soccer Preview: Bobcats return key players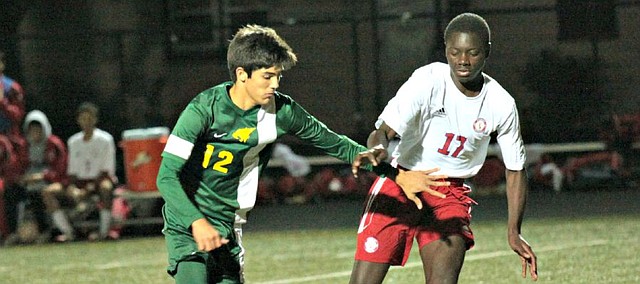 Entering his third season at the helm, Basehor-Linwood boys soccer coach Erik Jones has high expectations for his team this fall. The Bobcats, after all, certainly won't be lacking any experience or camaraderie when they hit the pitch for the first time later this month.
Basehor-Linwood will open the season at 6 p.m. on Friday, Aug. 28, at home against Maranatha Christian Academy. Until then, the Bobcats will be working hard at practice, honing their skills for the two-month task that lies ahead of them.
"Last season, we made a lot of improvement," Jones said. "We ended up losing on penalty kicks to the state runner-up (Bishop Miege), so I think we're pretty confident coming into this year's season. We did a lot of good things, and we've really progressed in the first two years that I've been here."
When Jones first took over the program in 2013, he was faced with the challenge of building from the ground up. Several inexperienced, first-year high school players instantly became key contributors. And now that two years have passed, those same players will be called on to deliver at an even higher level and compete for a Kaw Valley League title.
"I think that we're a much older team for sure," Jones said. "My first year, I started six freshmen on varsity, and now those freshmen are juniors. I think with any team, the goal is to get to state and win a state championship. I think if you don't have those high expectations and high standards, you won't get there."
Basehor-Linwood lost its top two point-scorers from last year — Zach Ferguson (7 goals, 2 assists, 16 points) and Tanner Brown (2 goals, 5 assists, 10 points) — to graduation. But there are plenty of talented players to fill those voids, including junior Jonny Harms (2 goals, 3 assists, 8 points), junior Chandler Carey (3 goals, 1 assist, 7 points), junior Colten Foster (2 goals, 2 assists, 6 points) and senior David Whaley (1 goal, 3 assists, 5 points).
"To be honest, the way this team is set up, you can't just single out one certain player here or there," Jones said. "For our team to be successful, it's going to have to be a group effort. It's going to take the core group of juniors, as well as some sophomores and some up-and-coming freshmen. I've got a returning senior (Whaley), and he's going to play a big role as well.
"There's not just one person that's going to be able to put this team on their back. We have collective group of players, and when they're working well together and playing off each other, we're a pretty solid team."
---
Jon Poorman is the sports editor at The Sentinel. Follow him on Twitter at @JonPoorman for all of the latest community sports news.